In Part 10, we finally arrived home after a quick, three-day early trip home due to COVID-19. After unpacking the trailer, we were both pretty tired. Joanne went to bed early but I stayed up a bit longer to put away what we'd taken out of the trailer. We had left most of it in our foyer and I didn't want to wake up to that.
By the end of the evening, the first floor of our house looked almost normal again with all but a few things put away. Now we had to endure a fourteen day period of precautionary quarantine.
COVID-19 Status for March 20th
As of the end of the day we got home, March 19th, the cumulative COVID-19 case count in the USA had risen to 12,022, an increase of 49% over the previous day. The number of deaths due to COVID-19 jumped to 175, increasing 42% over the previous day's count.
Although we were out of milk, we were mostly well stocked with groceries. Before we'd left on our Florida trip, we had purchased two weeks worth of groceries for home so that we'd have plenty when we returned. Then, as described in Part 7, we'd purchased two weeks of groceries in Fort Pierce. Three days later, we decided to leave early and head home. So, we had almost a month of groceries with us at home. Other than milk, of course.
Our Precautionary COVID-19 Quarantine
As instructed by the Canadian border guard due to COVID-19, we quarantined ourselves at home. This meant that we couldn't go to any stores or have any visitors. Fortunately, we were allowed to go outside for walks provided we maintained a distance of 2 meters (6.5 feet) from any other people we encountered. Since we live in the suburbs with a fairly low population density, we don't encounter very many people on our walks.
Our youngest daughter had taken care of our cat while we were away. Because we were out of milk, we asked her to bring us some milk when she and her boyfriend returned the cat to us. As instructed, they simply left the cat, in her pet carrier, and the milk on our doorstop and rang the doorbell. Then they backed away two meters (6.5 feet) so that they could greet us when we opened the door to retrieve the cat and the milk. It was nice to see them even at that distance. COVID-19 physical distancing!
Storing the Trailer
The trailer takes up a lot of space on the street so it's not fair to our neighbours to leave it there for very long. So, the day after we got home, we took it to the storage yard. Despite us being in 14 days of precautionary quarantine due to COVID-19, we felt compelled to get the trailer off the street. Fortunately, entry to the yard was by a contact-less access card. So, we wouldn't touch anything that anyone else would touch. Furthermore, we wouldn't encounter anybody in the storage yard, which sees little traffic. For these reasons, we felt that a trip to the storage yard would be within the intent of the quarantine.
As luck would have it, it had been raining most of the morning when we got to the yard. The storage area is mostly gravel and dirt. Last year at this time, we had a heck of a time putting the trailer into a spot due to the mud. We expected a similar experience this time.
Almost Perfect
As it turned out, I made an almost perfect back-in to the spot. Unfortunately, I didn't straighten out soon enough so I ended up in the spot but with the trailer crooked. In hind sight, I should have pulled forward as soon as I realized I hadn't straightened out soon enough. Then, I could have backed in properly. Instead, it took about four or five tries pulling the trailer straight forward and trying to back it in properly. Eventually, I was reasonably happy with it. However, we were surprised that the tires on one side had sunk into the gravelly mud.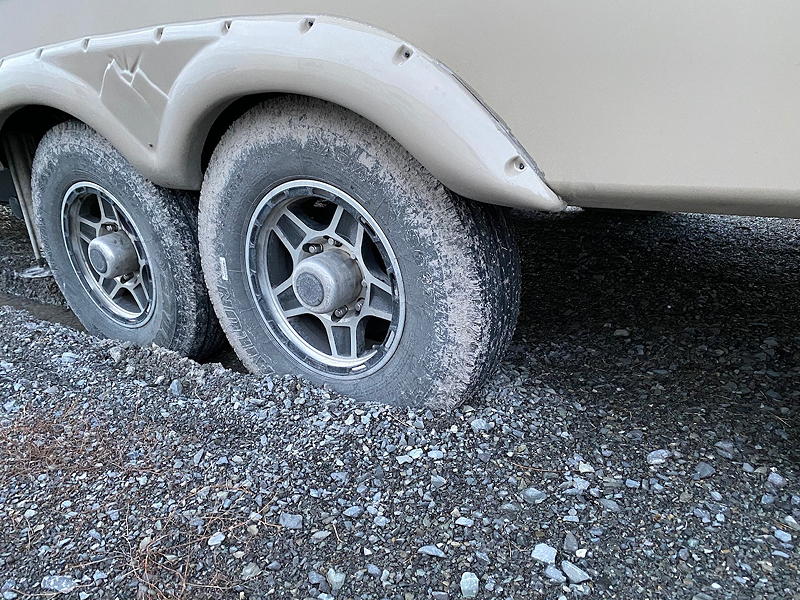 This year, I had put the truck into 4×4 Low as soon as I'd made most of the turn. That's something I'd learned from last year. This being the first pickup truck I'd ever owned or driven, last year I had initially backed the trailer into similar muddy conditions and had trouble. Then, I remembered 4×4 Low. That made smooth work of it from that point on.
This time, too, 4×4 Low made the work simple. But, it also hid the fact that the truck was working really hard to push the truck through six inches (15 cm) of mud.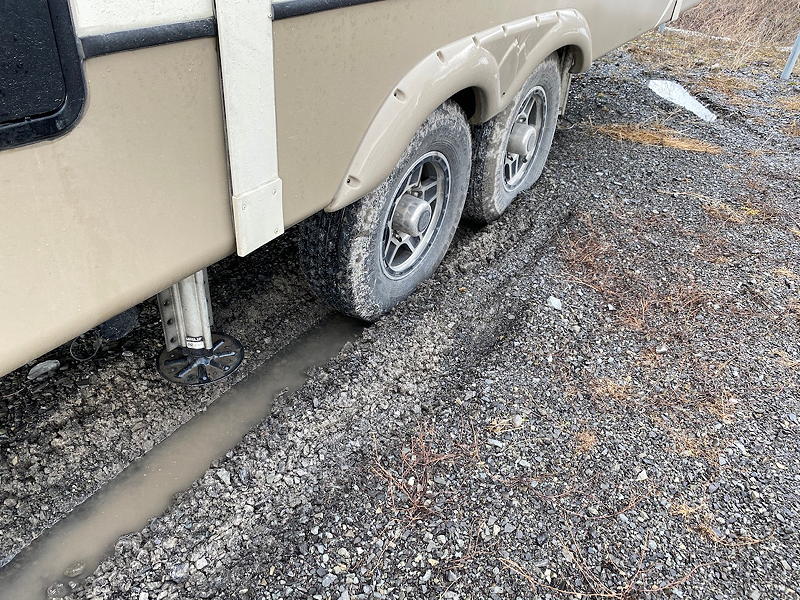 Leaning Trailer of Ottawa
Because the trailer only sank into the mud on one side, the trailer was leaning. However, it was in no danger, obviously, of tipping over, so we decided to just live with it. The only other thing to do would have been to abandon the spot and taken another one. However, the spot would have been so rutted that it might have been quite difficult for someone else to use it. At least, until the yard owners patched up and levelled the spot.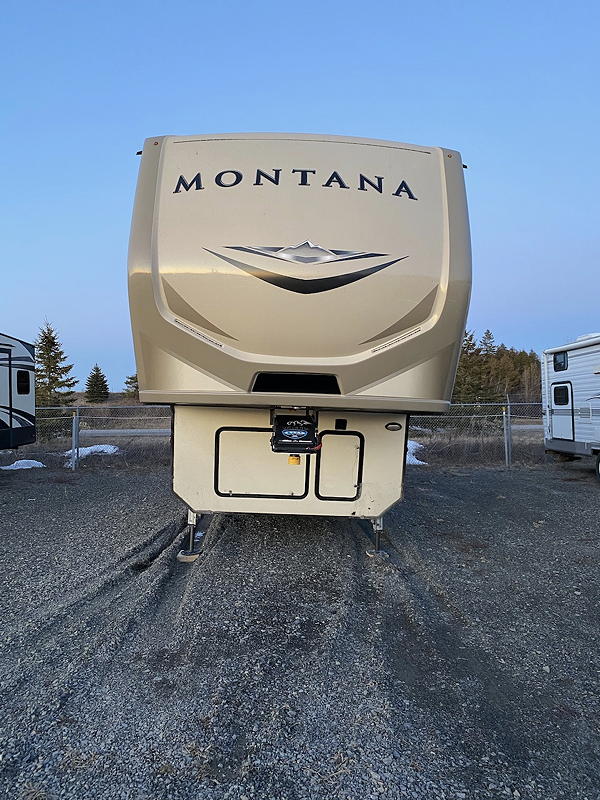 So, we left it as it was, with its lean to one side. Although the picture above shows ruts at the front of the trailer, the tires on the left side of the trailer in this view actually rose onto fairly solid ground, as you can see below. It's only the other side that stayed in a rut all the way back into the spot.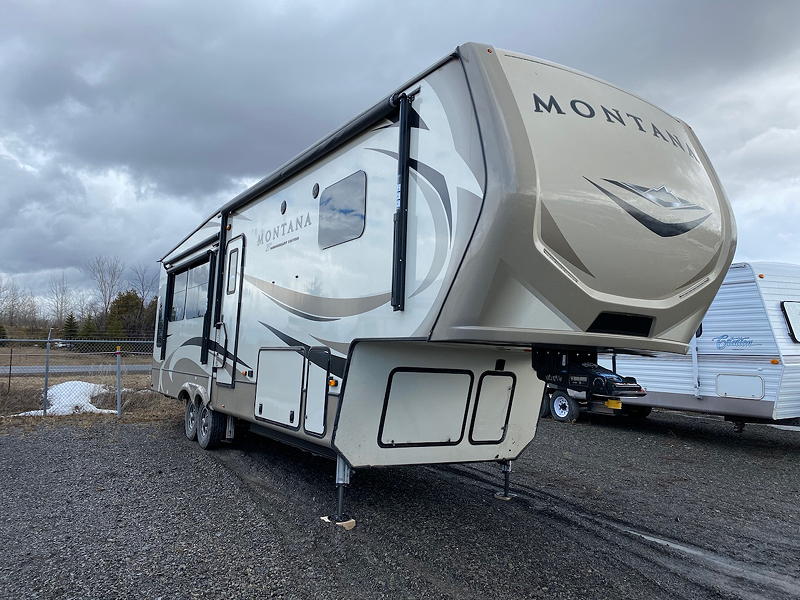 With the trailer in the yard, we headed home, back into quarantine.
Battery
Once we got home, I realized that I'd forgotten to remove the trailer battery. I don't like to leave it in the trailer when it's going to freeze overnight because it slowly discharges. If it's sufficiently cold and sufficiently discharged, the battery fluid will freeze and break the connections between the plates, destroying the battery. So, I had planned to remove the battery after getting it into its spot. Of course, I forgot.
Fortunately, it was staying above freezing that night, so I headed back to the storage yard the next day to retrieve the battery. It is currently sitting in our garage at home with a battery maintainer keeping it fully charged.
Pedal Board
After I'd been home for a couple of days, I decided it was time to get back to practising with my bass guitar. We still had nine new songs to learn. With our interrupted vacation in Florida, I'd only practised a few times. So, now it was time to get back to serious practising. That's when I found out that I'd left my pedalboard in the basement of our trailer. It was in its carrying bag and underneath the two beach chairs so I'd missed it when we had it in front of our house. Hence, yet another trip back to the storage yard.
The Precautionary COVID-2019 Quarantine
When we left the Canadian border, we were under precautionary quarantine due to COVID-19. At the time, this meant that we could not do any shopping, go for takeout food, nor could we receive visitors. Basically, we weren't allowed to have any contact with anyone. However, we were allowed to go our for walks provided that we stayed at least 2 meters (6.5 feet) from other people. All of my recreational hockey games had been cancelled, and restaurants were only able to serve take-out food. Furthermore, gatherings of more than five people were prohibited. So, our band practices had to be cancelled and so were our family gatherings. For that reason, we weren't really missing all that much other than doing our own shopping.
Our youngest daughter made one more grocery trip for us. We'd arrived home on Thursday, March 19th and they do their grocery shopping on Tuesday. So, we were able to provide her with a list of items for her to get and she and her boyfriend delivered them to our door as before.
End of the Precautionary COVID-19 Quarantine
Our COVID-19 quarantine period finally expired on Thursday, April 2nd. We "celebrated" by doing our own grocery shopping. To minimize grocery trips, we decided to buy enough to last us for two weeks, leading us to visit two stores. At the local Costco store, we had to line up to get in. We were kept two meters (6.5 feet) apart from others in our lineup. Then, just before we received our shopping cart, it was sprayed and wiped with disinfectant. This was all new for us, but our daughter had told us about it.
I also bought a photo scanner. With all this time on my hands, this felt like the right time to finally scan our fading family photos and our wedding album while there was still enough colour remaining to scan. Again, there were precautions taken throughout the purchase process. I knew what I was looking for and asked a staff member, from a distance, to get my product. He did so and asked if I was okay taking it by the handles that he had not touched. I said that I was okay with that.
Next, I took the photo scanner to the cash where I waited behind the marked line and plexiglass shield meant to protect the cashiers. I reached out to put my scanner next to the cashier, which she scanned. Then, I was asked to approach the counter in order to pay. This I did via my Apple Watch, needing no contact at all with the payment terminal. Like the two grocery stores, there was hand sanitizer so that I could sanitize my hands on my way out of the store. It's a whole new shopping experience!
Remaining Work for the Trailer
When we put our trailer away, we thought at one point that we smelled propane. We weren't sure if it was coming from our trailer or another trailer. Regardless, we turned off both of our propane tanks. Before our next trip, we'll have to check for any propane leaks.
Of course, we still have our failing water pump to fix. We're hoping that it's just the water pump itself. However, it's also possible that the feed line from the fresh water tank has a crack that is letting air into the line. If that happened, the pump would be drawing a mixture of air and water. As the crack enlarged, it would be drawing mostly air. So, we'll need to do some experiments to determine exactly what's wrong. Given the current COVID-19 pandemic and the uncertainty of when it will end, this isn't an urgent issue to deal with at the moment.
COVID-19 Status for April 5th
As I write this, it's April 5th, 2020. The case numbers and death counts have risen dramatically. You may recall from the top of this article that by the end of March 19th, there were 12,022 cases and 175 deaths in the USA due to COVID-19. Now, as of the end of April 4th, the total cumulative case count stands at 307,036 and the total number of deaths due to COVID-19 is now 8,352. Furthermore, the counts are still growing significantly.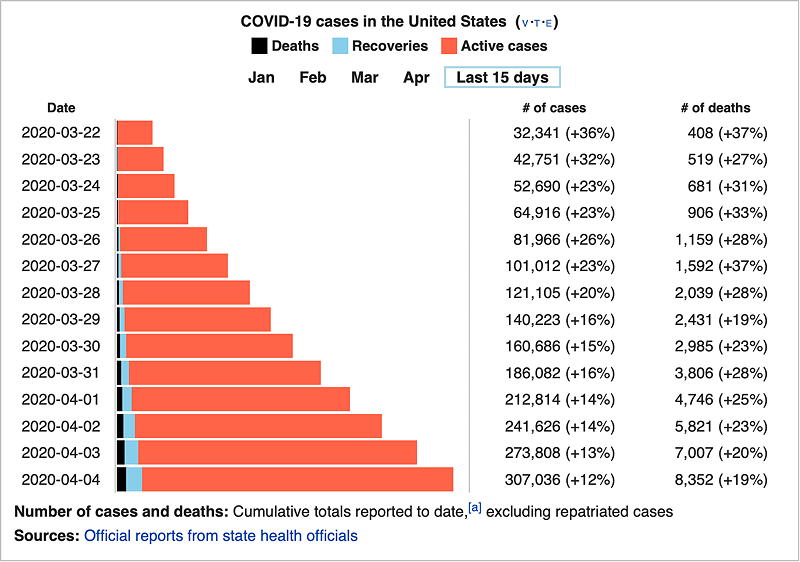 If you look at the percentage increase each day, it does appear to be slowing down. That could, of course, be due to a lag in getting test results. However, it could also be a sign that the growth is slowing. We need to see the growth slow to zero and then start declining with fewer cases each day than the day before. Eventually, should that curve go to zero new cases, we'll be close to the end.
When Will the COVID-19 Outbreak Be Over?
We learned from the 2003 SARS outbreak in Toronto, Ontario, Canada that you need to get through more than two weeks with no new cases before you can start easing restrictions. On May 14th, 2003, the World Health Organization (WHO) removed Toronto from the list of areas with recent SARS transmission because twenty days, or twice the incubation period of SARS, had elapsed since either (1) the most recent case of locally acquired SARS in Toronto was isolated, or (2) a SARS patient had died. The most recent case of SARS in Toronto had been isolated on April 20th. Despite that, there were still undiscovered cases arising through transmission from patient-to-patient and from patient-to-visitor transmission. A second wave flared up with 79 more cases. Remember, thought, that the SARS-CoV-2 virus behind COVID-19 may behave differently.
So, to detect the end of the COVID-19 pandemic, we'll have to do a heck of a lot more testing for it than we're doing now. That's really the only reasonable way to know that there are no new cases arising from undetected sources. Alternatively, an effective vaccine could bring about an end to the pandemic. Time will tell.
Musical Trip
We had planned an RV trip to New Orleans, Memphis, and Nashville, among other places, in June with friends. We hadn't booked it yet and now we're holding off. We're increasingly skeptical that the border between Canada and the USA will be open by then for tourism. Like so many other things, that trip is on hold for now.
Final Thoughts
So, in hindsight, knowing how the trip would turn out, would we still have gone in the first place? Yes, without a doubt. We got a chance to see Gladys Knight perform, and that was worth the trip all by itself. In fact, with COVID-19 still rampaging through the population, it looks like it's going to be many, many months before we can see any live entertainment of any sort. So, that's a particularly precious memory right now.
We also got a chance to visit the beach at St. Augustine. From that, we learned that we'd like to spend some more time there the next time we are in the area. Right now, we're thinking that at least three nights and perhaps as many as five nights would be the length of our next stay there. That would give us more time to explore it.
We really enjoyed our shortened time in Florida. Our plan called for us to be there for three weeks. Of course, in the end, we left six days after we got there, giving us just five full days between the March 11th arrival day and the March 17th departure day. Yes, had we known that our trip would be abbreviated, we would have gone to the beach more than once. We thought we had another two weeks at the campground for lots more beach time. But, even that one single day on the beach was worth it. On top of that, we were able to enjoy all the warm weather with highs most days of 28°C or 29°C (82°F to 84˝F). It was wonderful. If all goes well, we'll be back again in the fall.
This post was made public on April 5, 2020.