In Part 8, we had just decided that it was time to head home because of COVID-19. With the decision made, we had to plan our trip home.
Original Plan
Our original plan had us staying in the Fort Pierce Downtown KOA campground from our arrival on March 11th until departure on April 1st for the Savannah South KOA campground. We were going to stay there for two nights, then return to the Enfield / Rocky Mount KOA campground for two nights. Finally, we'd go back to the Jonestown / Hershey NE KOA campground for one night. The following morning, April 6th, we'd winterize the trailer and head home. That makes for four days of driving to get home: First, head to the Savannah South KOA campground. Second, head to the Enfield / Rocky Mount KOA campground. The third day of driving would be to the Jonestown / Hershey NE KOA campgrounds. Finally, the fourth day would be the drive home.
Considerations for a New Plan
We were going to leave the next day, March 17th, but should we just do the same as the original plan, but leaving much earlier? We decided that we wanted to get home quickly. So, first we eliminated the extra overnight stays in our original plan. That would be four straight days of driving with no breaks. However, given the COVID-19 situation, we felt that four days to get home was too long, so we settled on just three days to get home.
Regardless of the plan, we knew we had to winterize the trailer before we got home because the nights at home would still be below the freezing point. Our plan was to do that in Jonestown because it was only a seven hour drive home from there. If we were up by 7:30 am, we should be done our breakfast and showers by about 8:15 am.
It takes us two hours to winterize the trailer. That involves first draining all the tanks and all the water lines, and then putting RV antifreeze in all the tanks except the fresh and hot water tanks. Finally, we pump RV anti-freeze through all the water lines. That would take us to about 10:15 am. Then, we'd prepare the trailer for departure, couple the truck to the trailer, and then head home at a little after 10:30 am. We'd lose some time to stops along the way and time at the USA / Canada border crossing, but we could expect to be home sometime around 7:00 pm.
Because the morning was already going to be very busy at Jonestown, we decided we would keep that part of the plan the same. Winterizing further south would give us a longer drive home that day and we didn't want that. However, we could get to Jonestown in two days of driving instead of three days.
The COVID-19 Plan Comes Together
Cumulatively, it's about fifteen-and-a-half hours of driving to get from Fort Pierce to Jonestown, so we decided to pick a campground about half-way there. A quick check of the online KOA campground map led us to the Lumberton I-95 KOA campground. It's about eight hours of driving to get there and a distance of about 940 km (580) miles. That meant that we'd have to refuel with the trailer attached. Fortunately, we knew of a great stop for such refuelling–the Shell Circle K station just outside St. Augustine, Florida. That's where we refuelled when we left St. Augustine with an almost-empty fuel tank.
Next, we'd have to get to Jonestown the next day. There are two fundamental routes to take to get there. The one we've always taken is I-95 to Washington DC and I-495 around Washington DC. After that, there are a few highways that get us to I-81.That's about seven-and-a-half hours of driving and a distance of about 790 km (490 miles). However, that route is highly unpredictable because traffic can be really bad on that route. For example, in Part 3 we mentioned that we'd lost about two-and-a-half hours on the drive down due to traffic on I-495.
The other major route home is to take I-81 around Washington DC. That route is about eight-and-a-half hours of driving and a distance of 885 km (545 miles). In the end, we decided to pick a route that morning based on traffic time projections at that moment.
Enacting the Plan
First, we cancelled our Enfield / Rocky Mount KOA campground reservation for April 3rd. We couldn't reach the Savannah South KOA office so that reservation was cancelled after we got home. Next, we called the Jonestown / Hershey NE KOA campground to change our reservation for April 5th to March 18th instead. Finally, we called the Lumberton / I-95 KOA campground to make a new reservation for March 17th. With that, our COVID-19 return-home plan was complete. We went to bed knowing that we'd be in for three long days of driving and winterizing.
COVID-19 Status on March 17th
At the end of March 16th, the COVID-19 case count was a cumulative total of 4,373, an increase of 25% over the day before. The number of deaths jumped to a cumulative total of 76, a 23% increase from the day before. We were glad that we were heading home today.
Departure from Fort Pierce
We woke up early on Tuesday, March 17th and were ready to leave at about 9:20 am. There was a lot of driving to do today.
We stopped briefly in a rest area on I-95 near Mims, Florida at 11:00 am. There, we discovered that our water pump, which had seemed rather anemic earlier in the trip, wasn't working properly at all. When we're hooked up to water at a campground, that water pressure is all we need. When we're not hooked up to water, we use our water pump to feed water from our fresh water tank into the water lines of the trailer. For transits, this most crucially provides water to flush the toilet. It was clear that our water pump was on its last legs. It hadn't worked at full pressure since the beginning of the trip, so we wonder if we winterized it properly back in November.
Our next stop was the Shell Circle K station just outside St. Augustine at a little after noon. There, we refuelled the truck, giving us enough fuel to get to the Lumberton / I-95 KOA. After a few other stops along the way, we stopped at an I-95 rest area near Santee, South Carolina just before 6:00 pm. We finally arrived at the Lumberton / I-95 KOA campground just before 8:30 pm.
It turned out to be ten hours and twenty-seven minutes of driving and a distance of 917 km. The distance was shorter because we ended up on a shortcut recommended by one of our GPS units. Unfortunately, though the distance was shorter, it was a road with mostly a 45 mph (73 km/h) speed limit and there were quite a few traffic lights that slowed us down.
The Lumberton / I-95 KOA Campground
We were both pretty tired when we got to the Lumberton campground. Joanne had a quick supper and went to bed. I was too hungry for just a sandwich. Because I also had to refuel the truck, I went to a nearby gas station across from a McDonald's restaurant and got some takeout food there. Fully conscious of the COVID-19 risk, I wanted to pay with with my no-contact Apple Watch to reduce the risk. Unfortunately, they didn't support tap payments. I paid with the exact amount so that I didn't need to receive any cash from the cashier. Then, I headed back home, ate my supper, and went to bed.
In the morning, I took a few pictures of the campground. We're often wondering "was that the campground with…" whenever we talk about campgrounds we've been to before, so I take pictures when I remember to do so. These are from the morning just before we left the campground.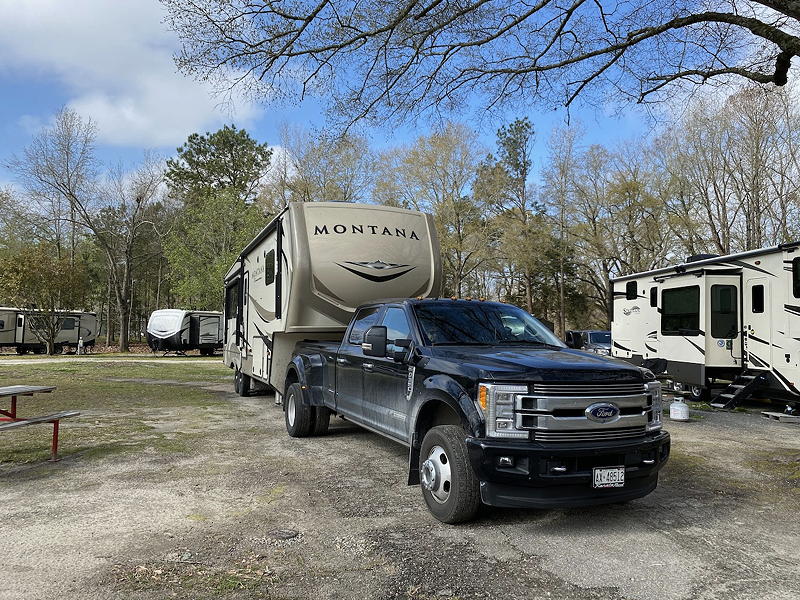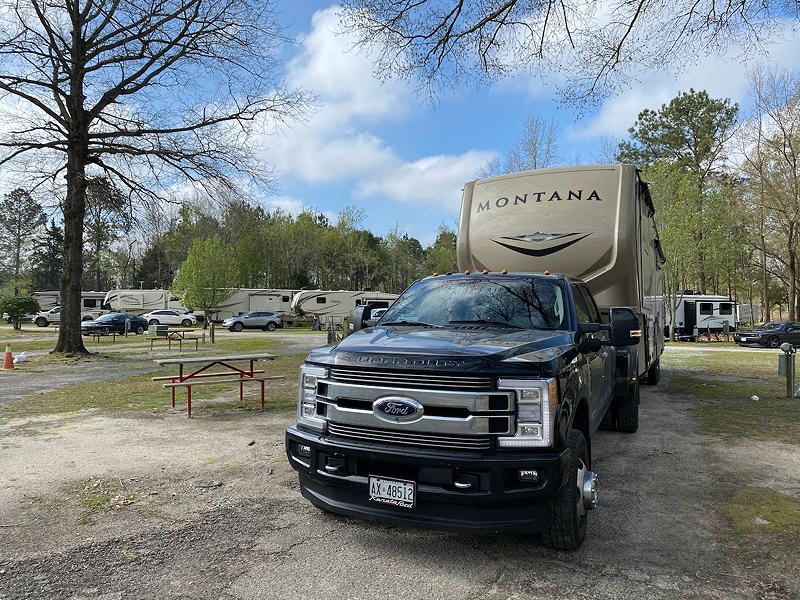 COVID-19 Status on March 18th
There was no question that the COVID-19 pandemic was becoming much more serious in the USA. As of the end of March 17th, the case count had jumped to a cumulative total of 17,439, a rise of 45% from the day before. The number of deaths from COVID-19 had increased to a cumulative total of 230, a jump of 31% over the previous day.
Heading for Jonestown
We didn't set any alarms to get up to leave the Jonestown campground. We'd been so tired the night before, and we had another long day ahead of us, so we figured it was best to sleep in and get whatever sleep we needed. Consequently, we weren't on our way until 10:45 am in the morning.
When I'd first gotten out of bed, I checked Apple Maps for the routes to the Jonestown / Hershey NE KOA campground. Sure enough, it showed us the two different routes. The I-495 route was initially an hour faster than the I-81 route. However, with every half hour of time passing, that time declined. By the time we were ready to leave, the I-495 route was going to be just five minutes faster than the I-81 route. Given that the I-495 route was getting worse all morning, I didn't even want to speculate how long it would actually take us to get through that route. So, we decided to go via the I-81 route.
Both our truck's navigation system and our Garmin RV780 & Traffic navigation system were advising that we take the I-495 route. So, each system got programmed with a waypoint at a fuel stop near Staunton, West Virginia. It's just a few minutes after we pick up I-81 from I-64.
Draining the Fresh Water Tank
We stopped almost two hours later at a rest area just off I-73 / I-74 near Seagrove, North Carolina. There, we ate our sandwiches from our cooler. There was a state trooper who had pulled over a truck and brought him into the rest area. He was clearly inspecting the truck. Once he left, I went out and started draining our fresh water tank. The campgrounds aren't set up for this so we generally empty our fresh water tank in parking lots.
Because the fresh water tank holds drinking water, you can safely empty it pretty much anywhere. It is illegal, though, to dump your grey water tanks, into which the kitchen sink and bathroom shower and sink empty. It's also illegal to dump the black water tank, which holds what flushes down the toilet. Those tanks can only be emptied into official dump stations such as those found at many campsites.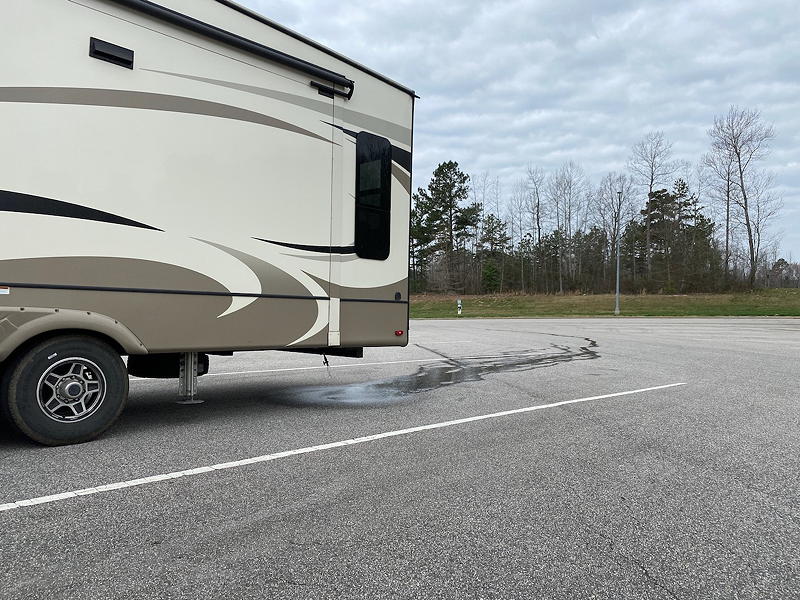 Not too long after I started dumping, the state trooper returned with another truck for inspection. He parked up against the grass in the picture above. As you can see in the picture, there was an obvious trail of water leading away from the trailer. I didn't want to have a debate with him about whether this was fresh water, grey water, or black water. The difference is painfully obvious to any RV person, but perhaps he wasn't familiar with grey tanks and black tanks. So, I quietly went out and closed the fresh water tank drain valve.
Refuelling
When we left Lumberton, we knew we'd have to refuel the truck at some point. We had to cover about 885 km (545 miles) and we can only reliably travel about 700 km on a full tank of fuel when pulling the trailer. We had set a waypoint for both navigation systems at a place to refuel. However, as it turns out, we needed to stop for a bathroom break before we got there. Joanne found a place to stop at a fuel station called Goldy's in Rustburg, Virginia. It was right on Highway 29, the route we were on at the time. They had diesel at US$2.499 per US gallon, so we filled up there instead of at our upcoming waypoint. We were on our way again shortly after 3 pm.
COVID-19 and Supper
We knew that we would be arriving at the Jonestown campground well past supper time. So, we'd have to find a place to eat during the trip. Fortunately, Joanne has become quite skilled at finding places. She found a Love's Travel Stop in Toms Brook, Virginia that had an Arby's restaurant. We hadn't eaten at an Arby's restaurant for quite a while so we eagerly chose that as our destination.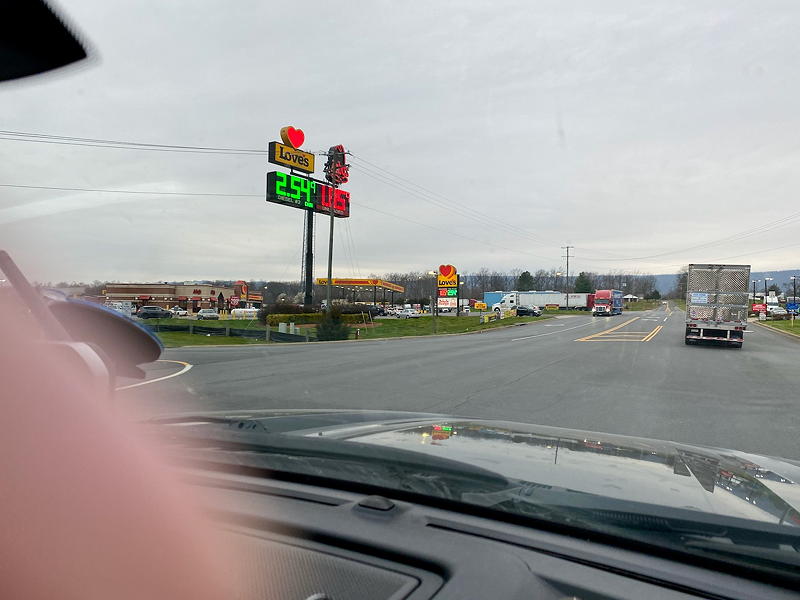 Unfortunately, when we got there, we couldn't find an open parking spot. We drove into the truck area and looked all around the aisles and there was no place to park. So, we sadly returned to the highway. Next, Joanne found a McDonald's restaurant not too far away in Middletown, Virginia. It was just off the highway and had a big spot for parking right beside it. It was shared with an Econolodge.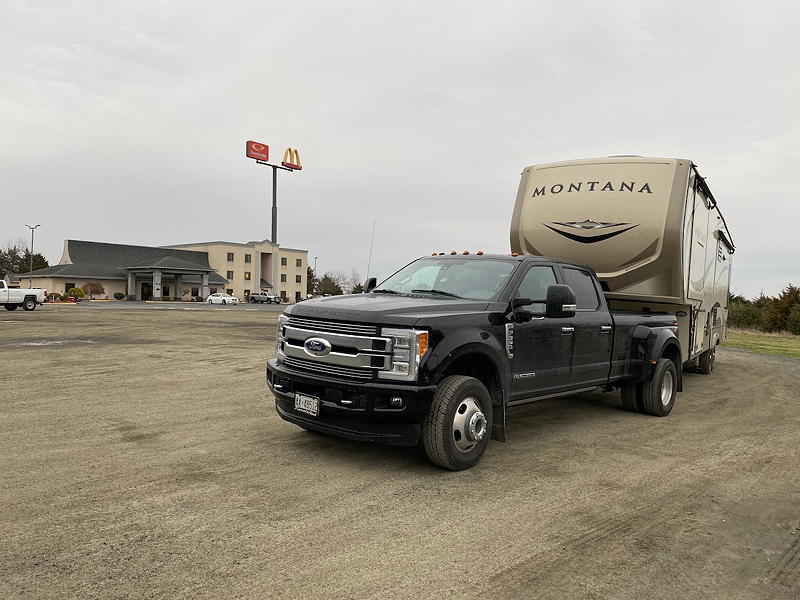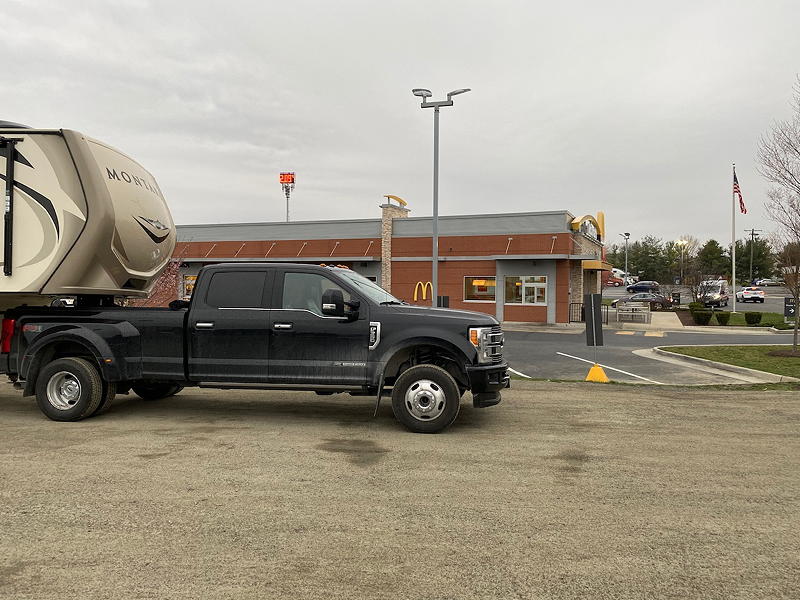 McDonald's and COVID-19
When we got into the McDonald's restaurant, we found that the dining room was closed due to COVID-19. Likewise, the kiosks from which you can place your own orders was closed. The self-serve soda dispensing fountains were also closed. Presumably that's because so many people touch the surfaces, keypads, and screens in the restaurant that it was an easy way to spread COVID-19. So, it just wasn't safe to leave them in use.
The staff, however, was a different matter. Right after we came into the restaurant, several young people came in. They knew the staff at the restaurant and were standing right beside the staff talking about their lives. No social distancing here! I think it's difficult for young people to appreciate the dangers of COVID-19 when they've heard that it mostly affects older people. Joanne and I kept our distance as we waited for our orders.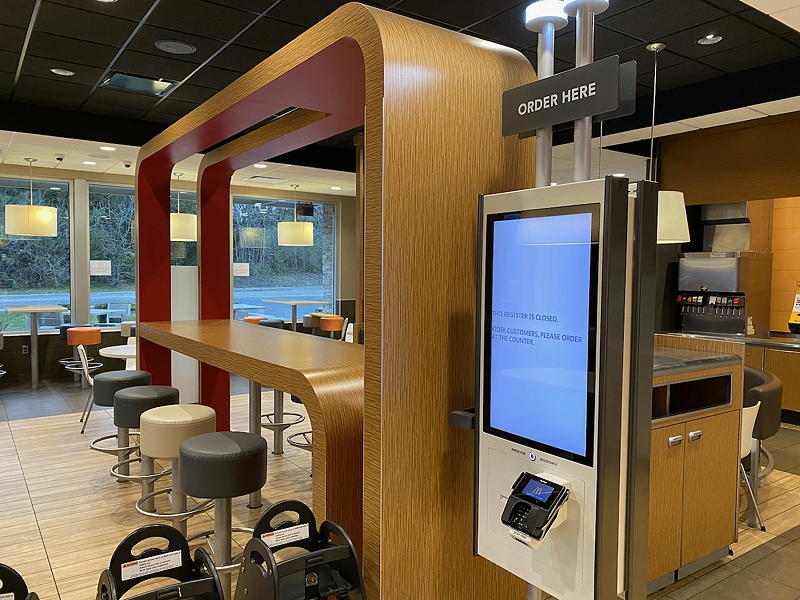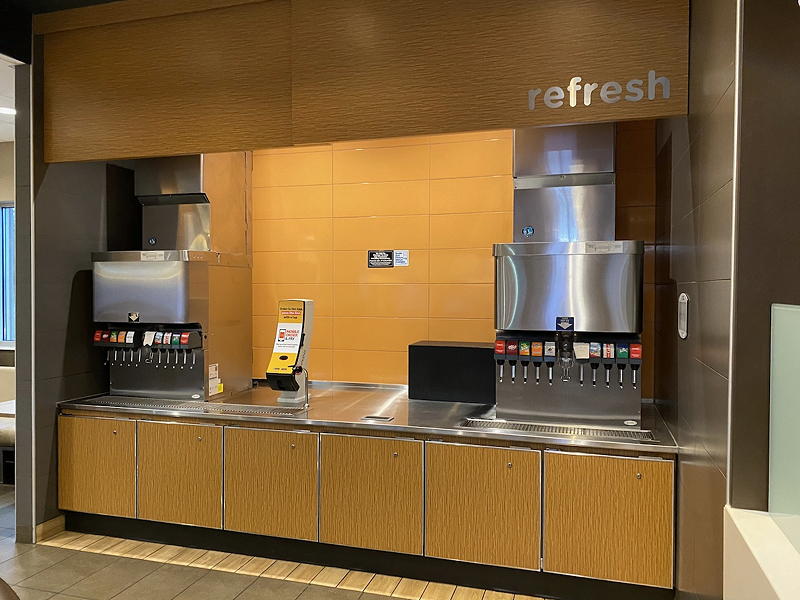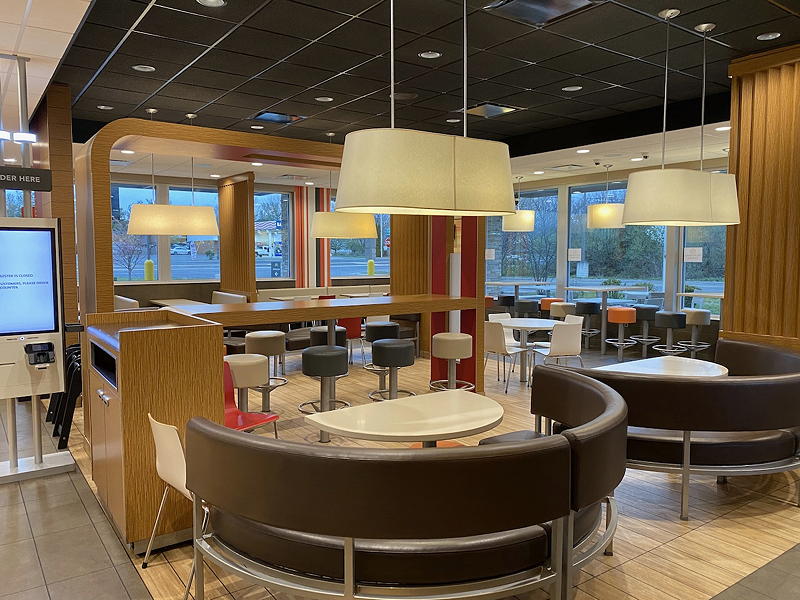 Rest Areas Closed
Once we got into Pennsylvania, we were surprised to see that the rest areas on I-81 were closed. Presumably, that's to avoid having a lot of people congregating in one place. However, it's a real problem for us because we rely on those rest areas for parking so that we can use the bathroom in the trailer. With them closed, we had to find other places to park.
If the closed rest areas are a problem for us, they're a bigger problem for the truckers. They rely on the washroom facilities as well as the parking areas for rests. In fact, it turned out that Pennsylvania, after hearing so many complaints, opened some of the rest areas the next day. We saw one open on the way home, but all the others we passed in Pennsylvania were still closed.
A COVID-19 No-Rest-Area Stop
With the rest areas in Pennsylvania closed due to COVID-19, we had to find other places to stop for our bathroom breaks. Joanne, with her usual skill, found one at a Sheetz truck stop in Southampton Township, Pennsylvania.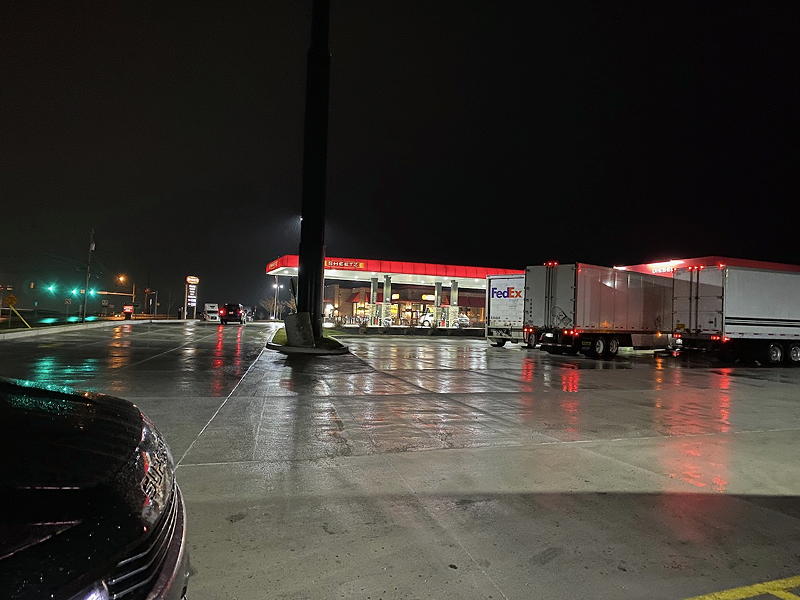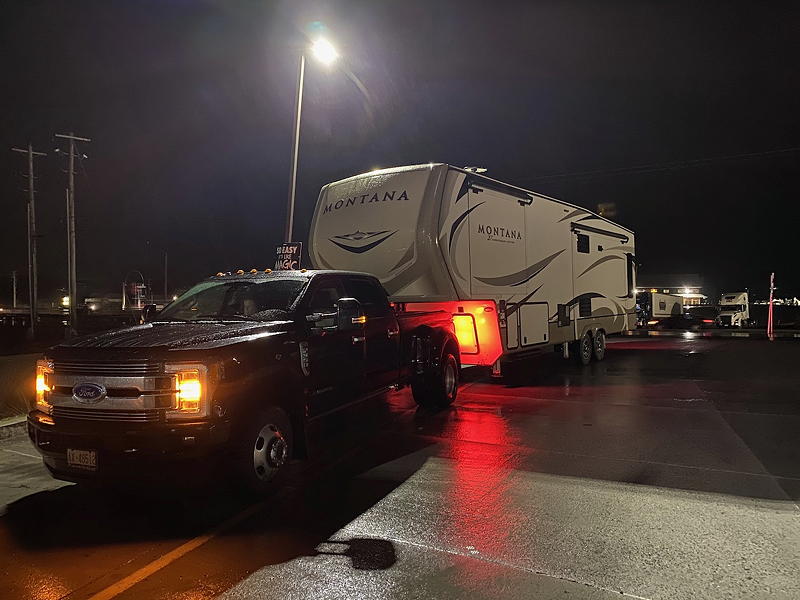 The Jonestown / Hershey NE KOA Campground
We finally arrived at the Jonestown / Hershey NE KOA campground a little before 9:45 pm. Given that our departure time was at 10:45 am, that made for an eleven-hour journey. We were both very tired. Naturally, having just arrived, and with the bathrooms a short one minute walk away, we both headed for the bathrooms before uncoupling the trailer.
We've used the Jonestown KOA bathrooms many times before. We are often here at a time of the year when we need to winterize the trailer. Once we've done that, we can no longer use our own bathroom in the trailer. So, we use the campground bathrooms just before we leave. This time, with the spread of COVID-19 never far from our minds, it was hard not to notice that the facilities in the bathroom mostly required touching to operate them.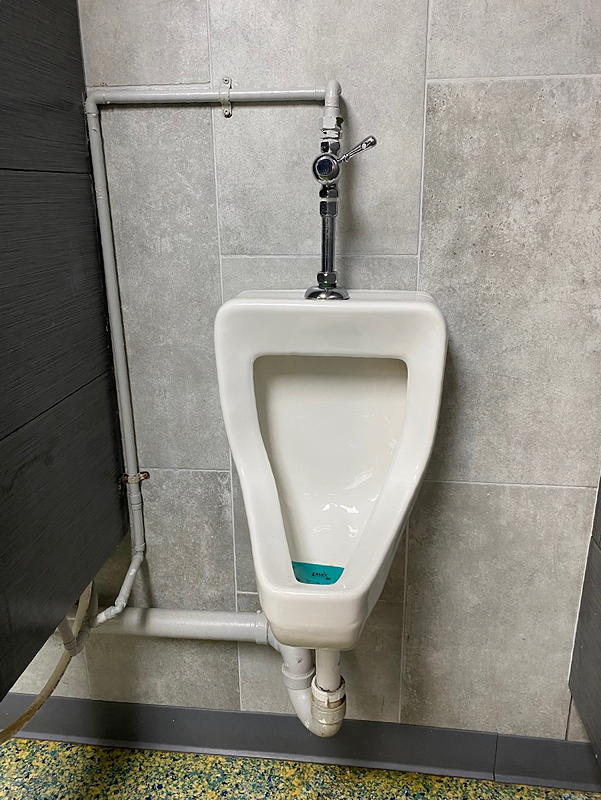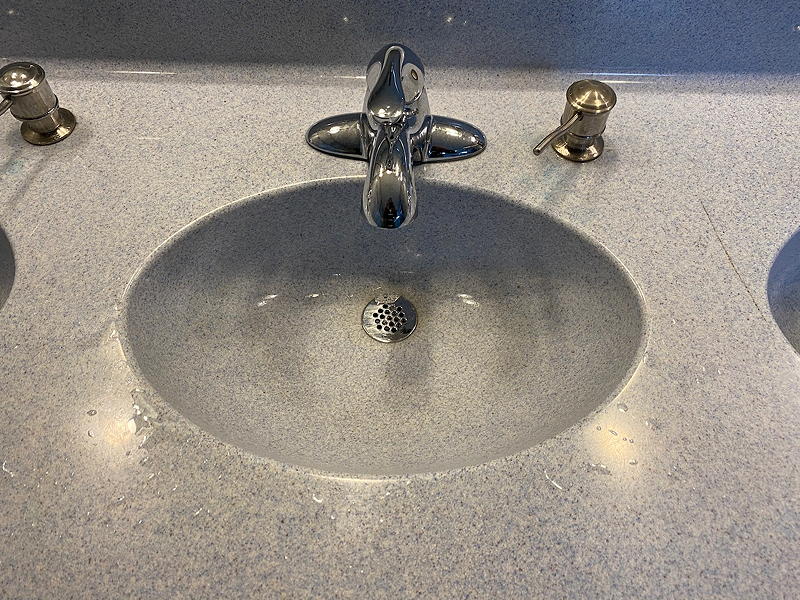 With the bathroom break out of the way, we uncoupled the trailer from the truck, and went through our usual routine. First, we levelled the trailer. Then, we connected the water and the electricity. Finally, we extended the slide-outs.
We were both exhausted, but before I went to bed, I had to refuel the truck for the journey home the next day. Fortunately, there's a Speedway station right beside the campground. After a quick trip to the station and back, I joined Joanne in bed. We needed a good night's sleep for the busy day tomorrow. Before we could leave, we would have to winterize the trailer. Then, we'd head home. Read all about it in Part 10!
This post was made public on March 28, 2020.