In Part 2 of this series of articles, we had just arrived at the Jonestown / Hershey NE KOA campground, set up for the night, refueled the truck, and gone to bed. We pick up the story again next morning, on March 6th, still with no signs of any concerns about COVID-19.
COVID-19 Status
By this time, COVID-19 was beginning to take hold in the United States of America. In February, new cases were being reported nearly every day. A total of 24 cases had been reported so far with one death in Washington state.
As of March 5th, there were 175 cases and twelve deaths. It was now clear that this was something quite serious, but it still seemed remote for most people. We didn't observe any changes in the way people we encountered behaved.
Leaving for the Enfield / Rocky Mount KOA Campground
On Friday morning, March 6th, we got up and prepared to leave for our next stop, the Enfield / Rocky Mount KOA campground. It's a shorter drive than the previous day at just five and a half hours of driving and a distance of 560 km (345 miles). Of course, there will be extra time taken for stops along the way. With the long previous day, we slept in and didn't get underway until just before 11:00 am, which is quite late for us.
Emmitsburg, Maryland
Our first stop of the day was at one of our favourite stops, a rest area at Emmitsburg in Maryland. There's lots of parking for trucks and RVs here, which makes it attractive.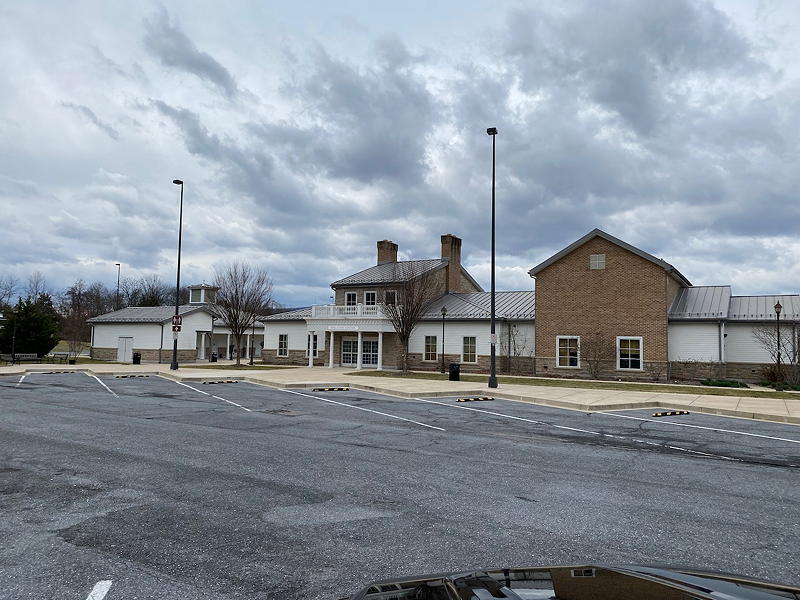 We originally stopped in the town of Emmitsburg back in October of 2018 to go to a McDonald's there. Based on the satellite map view, Joanne thought the parking lot was big enough for our rig. As we approached, we could see that it was woefully inadequate. We ended up not turning into the parking lot for fear of having to back out into traffic. That meant we continued straight passed the McDonald's and, to our surprise, we ended up on the ramp to go north on the highway again. We lost about twenty minutes looking for an exit with a proper entrance back onto the highway.
Now, we travel with a cooler filled with sandwiches, snacks, and drinks. So, for lunch, we only need a place to park now. This southbound rest area happens to be just a minute or so before the Emmitsburg exit. We're often hungry by this time so it's become a common stop for us on our trips to Florida.
Traffic Jam
Our estimated driving times often turn out to be optimistic, especially on the drive around Washington, DC. We've always taken I-495 around Washington. Others have told us to take I-81 to the west to bypass the I-495 bypass. That route takes an hour longer than I-495. On the other hand, while we often get through I-495 without substantial delay, we often get delayed an hour or two. So, it's really a toss-up.
This time, we ran into traffic in several places. The worst was the first in Bethesda, Maryland. A truck had dumped part of its load of cinder blocks and wood. That had blocked two lanes of traffic on this highway that was four lanes wide at that point. It took a while for the four lanes of traffic to squeeze into just two lanes. We lost about a half hour on this traffic jam alone.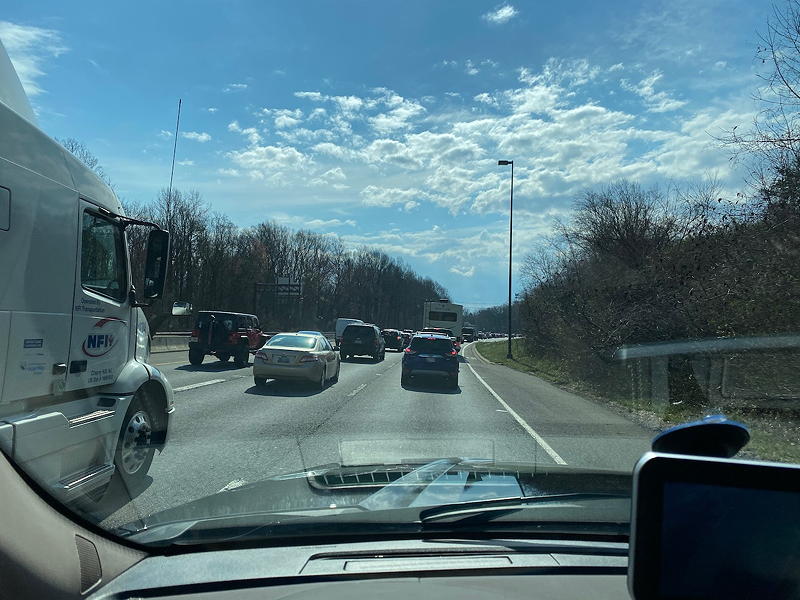 As we traversed the rest of our segment of I-495, we encountered heavy traffic. Our late start in the morning haunted us now as were right in the thick of rush hour traffic. All told, we lost about two and a half hours of time to the heavy traffic through I-495. The hour-longer route via I-81 is looking pretty good at this point.
Supper
With the heavy traffic, our journey was taking much longer than expected. Although we bring sandwiches and snacks for lunch, we'd made no provisions for supper. Joanne looked at our route ahead and found a great place to stop at a McDonald's restaurant in Roanoke Rapids, North Carolina. We parked in a great big parking lot just beside it. We grabbed a quick bite and were soon on our way. There were no precautions for COVID-19 in the restaurant. It's just not a big concern–yet.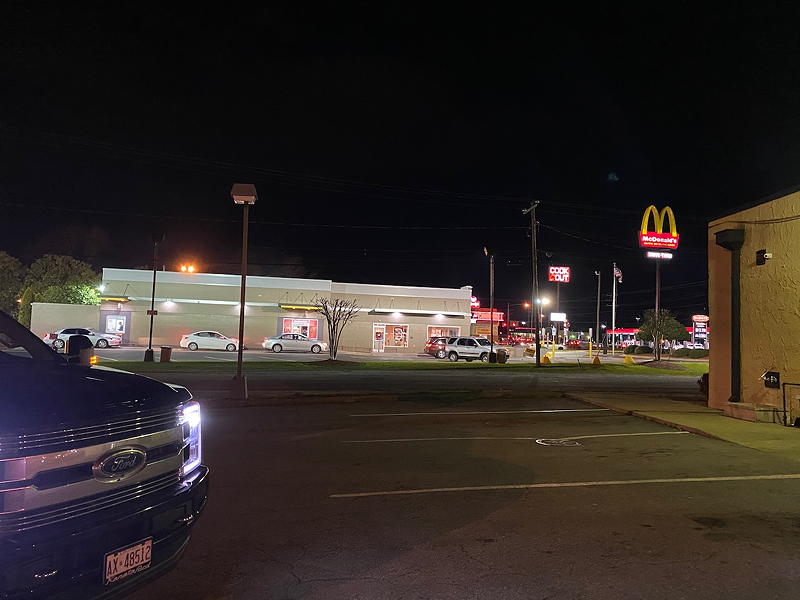 Arrival in Enfield
With supper out of the way, we had just a half hour remaining in our journey to the Enfield / Rocky Mount KOA campground. We arrived at about 7:45 pm. Given our departure time of 11:00 am and our five-and-a-half hours of driving time, this was much a much later arrival time than we had expected. Oh well. Traffic happens.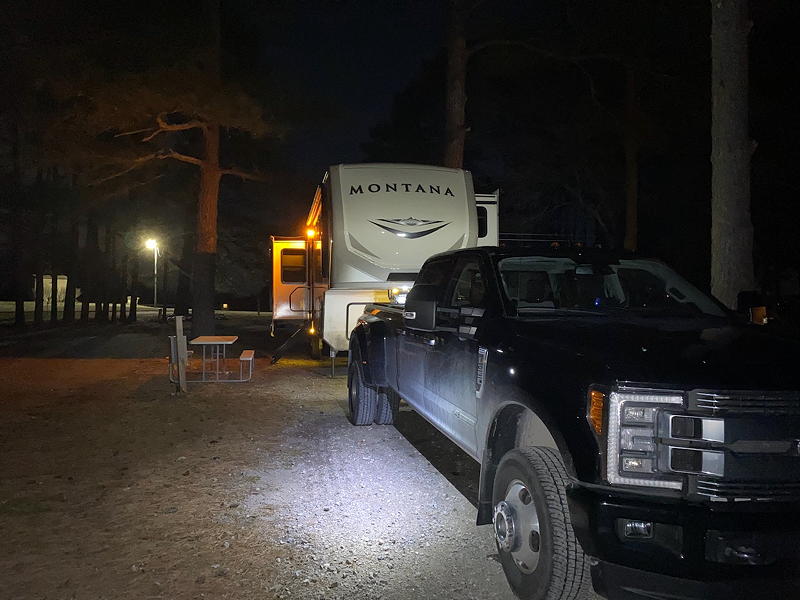 Once again, we were arriving in the dark. But, we've been to this campground many times and we know our way around it. So, finding our campsite wasn't hard at all.
Of course, the day doesn't end with the arrival. It's easier to refuel without the trailer attached, so I usually refuel the truck after we arrive. This time was no exception. There's a British Petroleum (BP) station at the next exit south on I-95 from the Enfield KOA. It takes just a few minutes to get there. It's a big station with lot's of pumps for cars and a separate refueling area for big trucks. We could refuel here even with the trailer attached.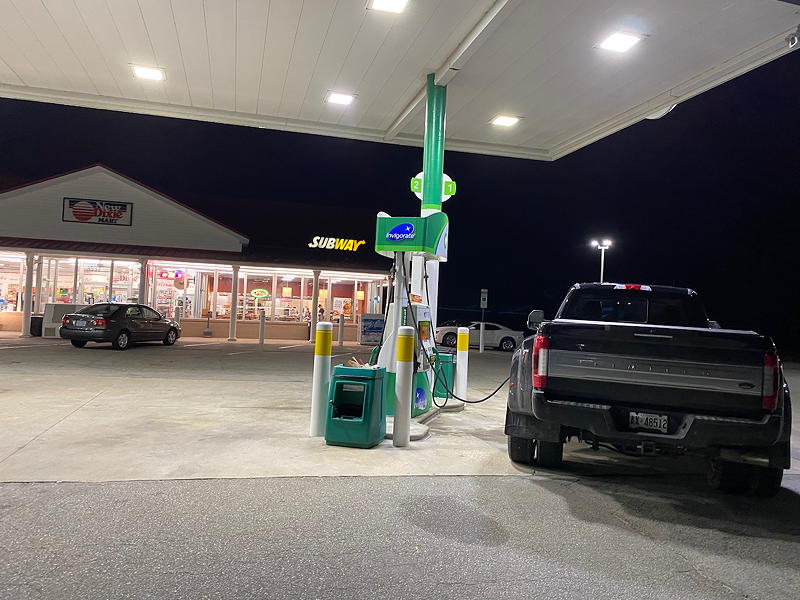 With that done, we bedded down for the night, ready for the short drive to Myrtle Beach tomorrow. Follow the story in Part 4
This posting was made public on March 22, 2020.