In Part 3, we arrived at the Enfield / Rocky Mount KOA campground and bedded down for the night. Here, we pick up the story the very next morning as we prepared to head to the Myrtle Beach KOA in Myrtle Beach, South Carolina. As for COVID-19, there's still no sign of alarm anywhere.
COVID-19 Status
At the end of the previous day, March 6th, there were now 252 COVID-19 cases in the USA, a 44% increase over the 175 from the day before. There had been a total of 18 deaths now, a 50% increase over the 12 from the previous day. Those are alarming increases for a single day, but the actual numbers are still very small. The growth is exponential, though, so people who understand statistics like this are becoming alarmed.
Journey to Myrtle Beach
The timing of our entire trip was based on seeing Gladys Knight perform at the Carolina Opry on March 8th. Normally, we leave for Florida near the end of March, but an early departure would allow us to catch Gladys. To avoid missing our very important weekly Wednesday lunch, we had to leave on Thursday. In turn, that meant three straight days of driving to get to Myrtle Beach the day before the concert. Fortunately, although the trips to Jonestown and Enfield were full days, the trip to Myrtle Beach was much shorter at about three-and-a-half hours of driving for an easy mid-afternoon arrival.
Once again, with the late arrival into the Enfield / Rocky Mount KOA, we slept in. Again, we were on our way just before 11:00 am, which is about an hour or two later than usual for us. So, we knew we'd have to stop for a bathroom break and lunch at some point. We chose a Love's Travel Stop in Dillon, South Carolina. There, I had to back the rig into a parking spot–I'm getting a lot better at this than I used to be.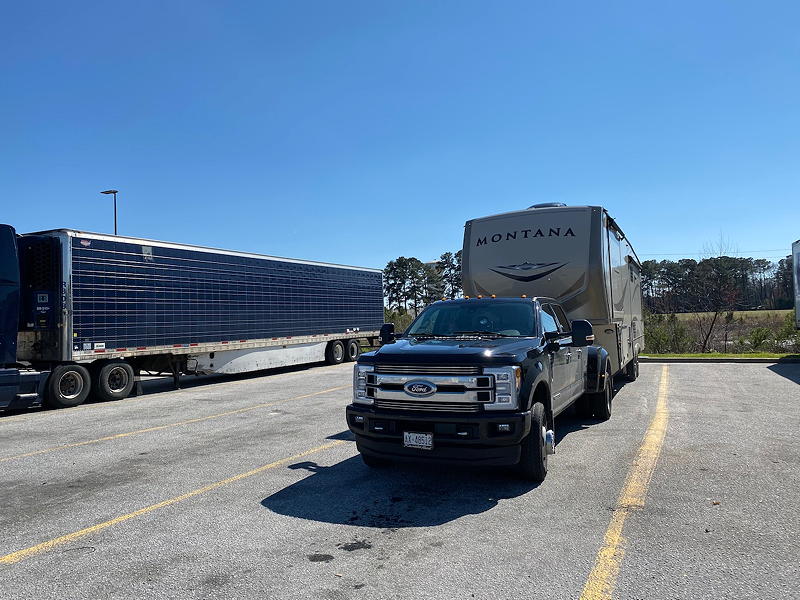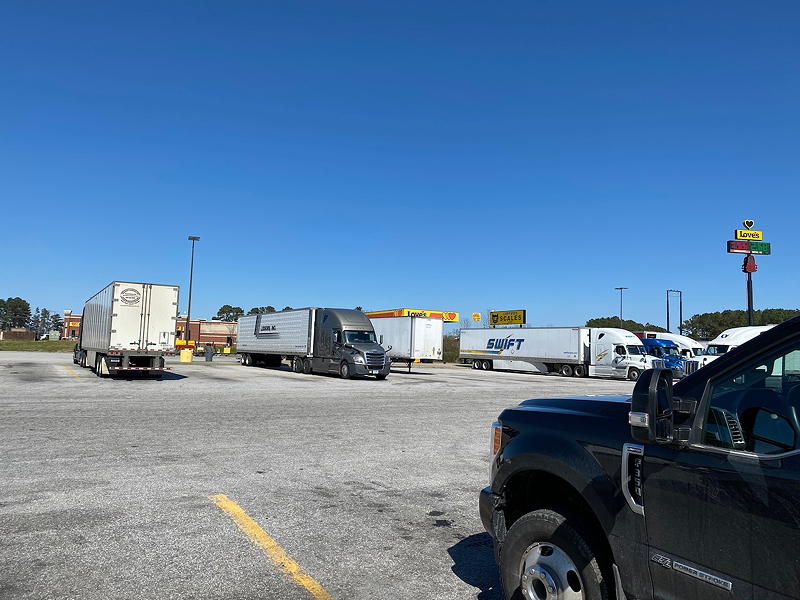 Myrtle Beach
We arrived in Myrtle Beach on March 7th just before 4:00 pm for a two night stay. We had a beautiful site with lots of trees around us. It's still a bit cold in Myrtle Beach at this time of year so there were lots of empty campsites.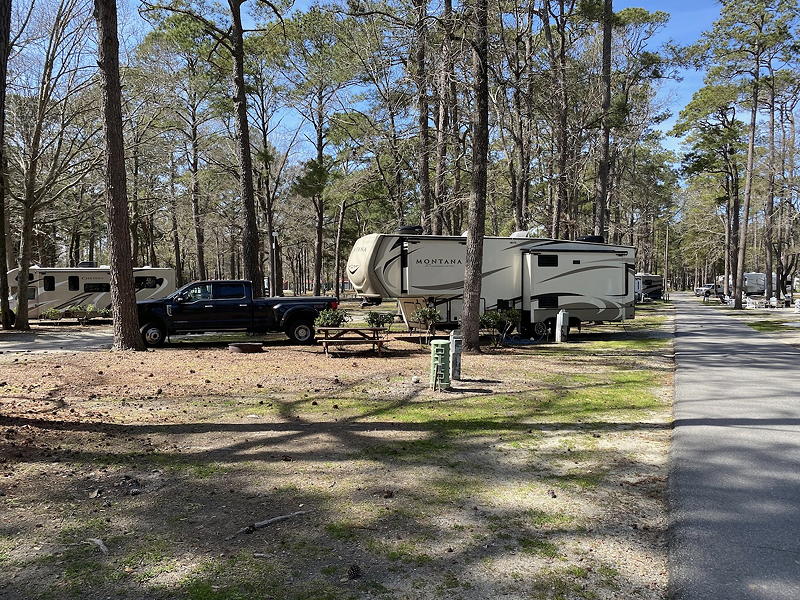 We had no commitments for the day but the next day we'd be off to see Gladys Knight performing at the Carolina Opry, a place where we'd seen several very entertaining shows.
For supper, we headed out to the Outback Steakhouse in at 7025 N Kings Hwy in Myrtle Beach. This restaurant chain is one of my favourites. I really enjoy the bread, salad, steaks, baked potato, and especially the Chocolate Thunder from Down Under.
The next day, we went for a walk to get some exercise. I'm the bass player in the band, Frozen Echo, and we're learning several new songs for an upcoming gig at the Stittsville Legion in Ottawa. One of those songs is Running on Empty by Jackson Browne. So, when I saw the following sign, I just had to send a picture of it to the other members of the band: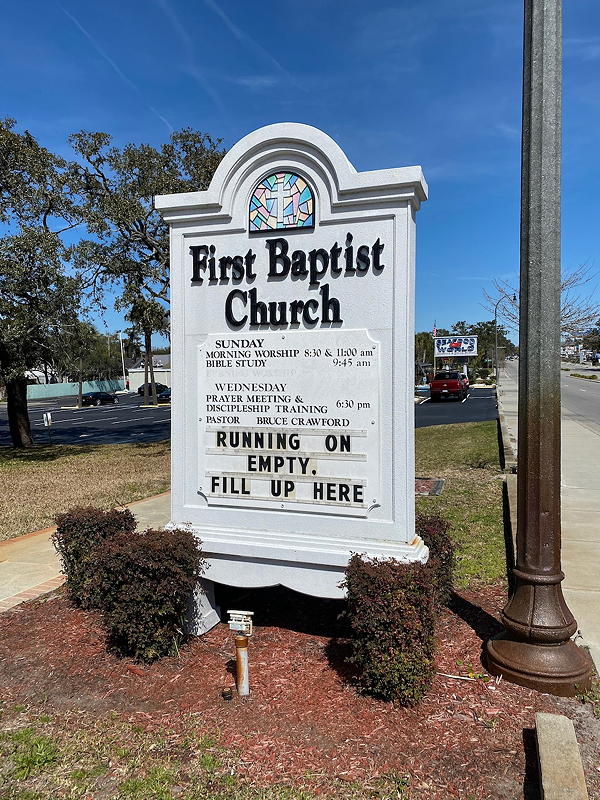 Gladys Knight
Finally, it was the day we'd been looking forward to so much–Sunday, March 8th. This was the day we'd finally get to see Gladys Knight perform at the Caroline Opry. She would be performing without her longtime backup singers, the Pips. We got there early so that we could find a spot to part the big truck. Then we headed into the show.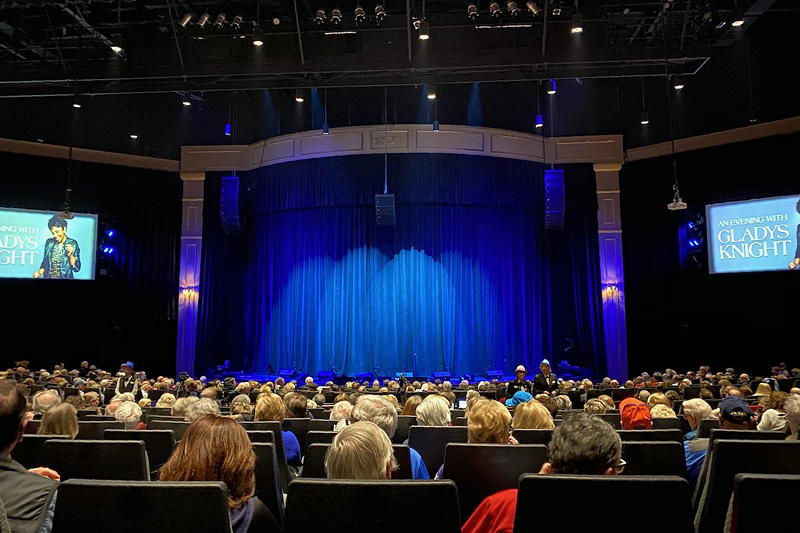 After a half hour or so, our waiting was rewarded and Gladys Knight appeared on stage along with her accompanying band and superb backup singers. Her show was an intimate one as she briefly went through her life and recording history, punctuating the stories frequently with her music. It was a very warm and entertaining show. Each of the backup singers, including, I believe, her son and daughter, had a turn as a soloist or shining for part of a song. They were truly amazing and powerful singers. Frankly, their vocal power outshone Gladys, so it's a credit to her that she allowed them to shine so brightly in her own show.
You can see from the picture above that COVID-19 is not a serious concern for those who attended the show. I didn't see any empty seats so the show appeared to be sold out. There was no social distancing being practised here! In hind sight, we were pretty lucky to see the show. A week later, it seemed like all gathering places would be closed.
With the show over, we headed back to our campsite to get a good night's sleep. The next morning, we'd be off to our next destination, the Saint Augustine KOA in Saint Augustine, Florida. Join us for all the details in Part 5 of this article.
This posting was made public on March 23, 2020.