In Part 4, we had just left the Gladys Knight show and gone back to the trailer to get some sleep. Now, on Monday, March 9th, we're headed for the St. Augustine Beach KOA in St. Augustine, Florida. There were still no signs of serious concern about COVID-19 in people's behaviours.
COVID-19 Status
As of the end of March 8th, there were 497 cases of COVID-19 in the USA, a 41% increase over the 353 cases of the previous day. There had been 22 deaths, up three from the previous day for an increase of 16% over the day before. The numbers are steadily increasing but daily life hasn't really been affected yet.
We were becoming increasingly aware of the seriousness of the epidemic. We were making small gestures such as being a bit more careful about what we touched and avoiding crowds, but we hadn't made any serious changes in our daily life.
Heading to St. Augustine
After breakfast and preparing the trailer for travel, we left Myrtle Beach for St. Augustine just after 10:30 am. That's still later than usual for us, but not as bad as the previous few days.
It's just under six-and-a-half hours of driving time and about 640 km (395 miles) to get to the St. Augustine Beach KOA campground. We made several stops along the way, notably another stop at a Love's Travel Stop. Once again, I got to practice backing the trailer into a spot.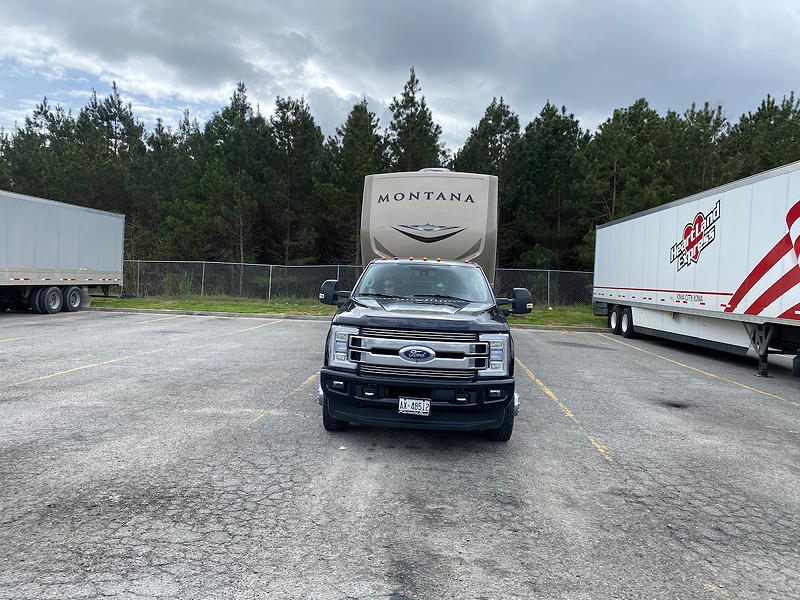 Love's Travel Stops have a wide variety of products and services. They carry a lot of the usual snack foods like potato chips and chocolate bars, but also healthier alternatives and hot prepared food. They also have showers that you can book. Some, such as this one, have additional services such as tire replacement and minor truck repairs.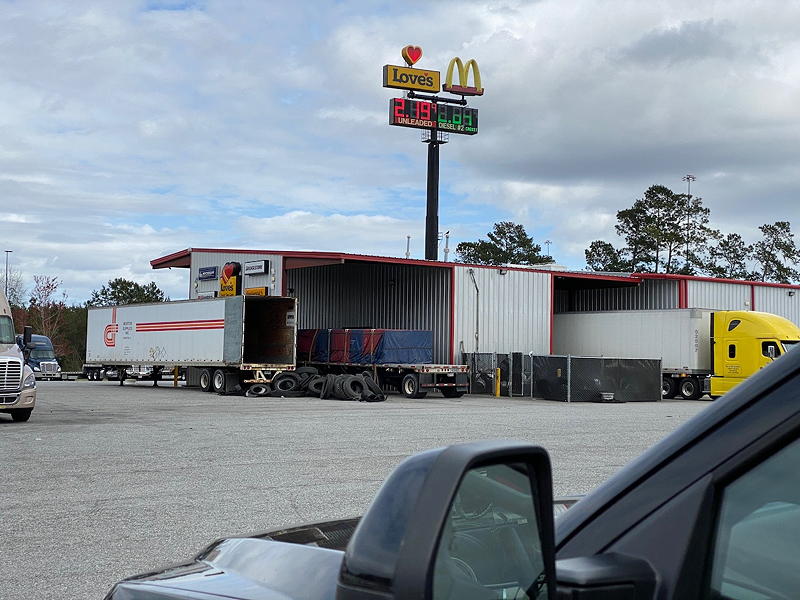 One thing we noticed on this trip was the price for fuel. The gasoline is a lot cheaper than usual, but so is the diesel fuel. So far, all the fuel we've purchased is under three US dollars per gallon, which is a treat for us.
The St. Augustine Beach KOA Campground
We finally arrived at the St. Augustine Beach KOA campground at about 6:30 pm. The four pictures below, taken the following day, showcase the campground and our campsite. There were still lots of gatherings of people at campsites and nobody seemed concerned about COVID-19 yet.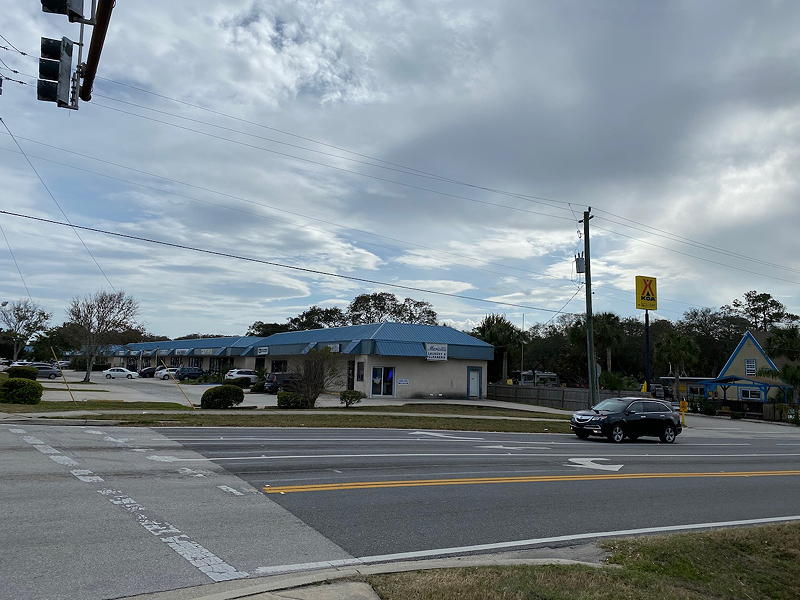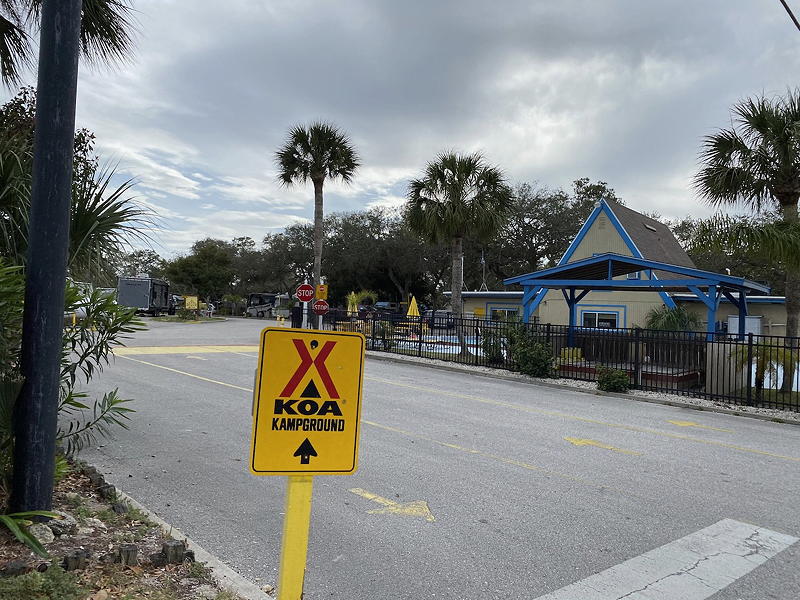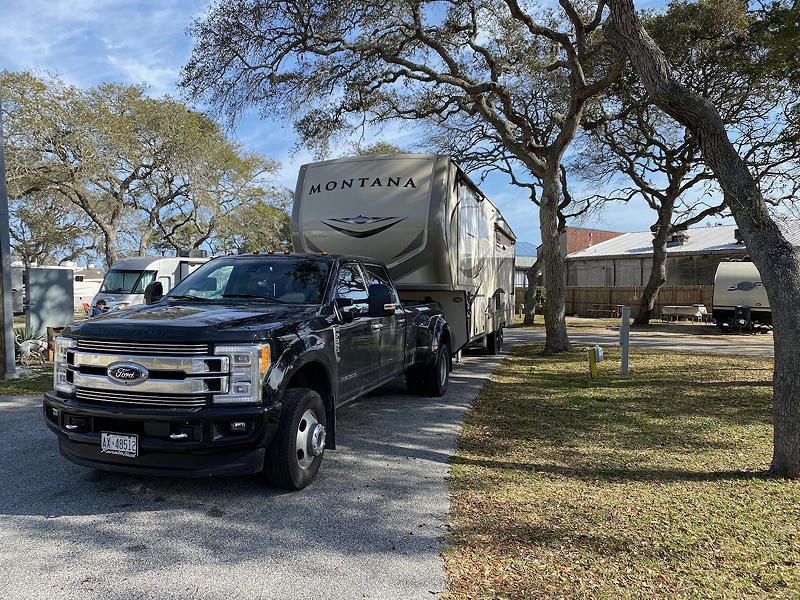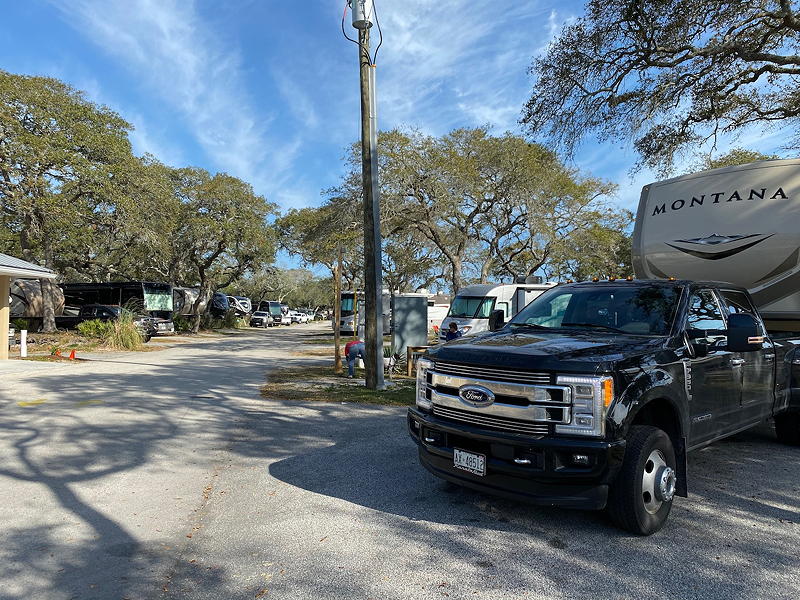 When we arrived, we were hungry. The campground is located a short walk from a fairly major intersection in St. Augustine, that of Pope Road and the Route A1A highway. Across the A1A highway was a 7-11 store, a favourite of one of our frequent traveling companions, and a Wendy's restaurant. A few minutes walking in the other direction down A1A would get us to a McDonald's restaurant. We opted for the Wendy's restaurant.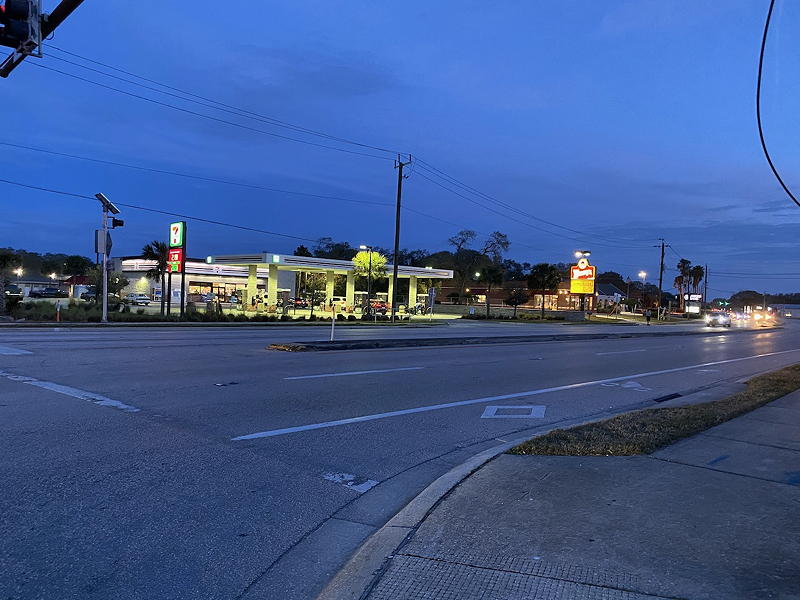 The 7-11 store is open 24 hours a day, making it a convenient destination in the event of a snack attack. Directly across Pope Road from the campground was a small mall with a Dollar General store, among others.
St. Augustine Beach
Tuesday, March 10th, was a non-travel day. In planning our trip, the average temperatures for St. Augustine at this time of year were warm enough that we wanted to stay a full day. That way, we'd be able to tell if we'd want to come back on our next trip to Florida.
St. Augustine in Florida was founded in 1565 by Spanish explorers and is the oldest continuously inhabited settlement established by Europeans in the contiguous United States (Wikipedia). It has a beautiful old section of the city that caters to tourists. More interesting to us, though was the St. Augustine Beach. It's about a twenty minute walk to the beach from the campground. It's trivially easy to get to by foot: cross the A1A highway and keep walking on Pope Road until you get to the entrance to the beach. Though we didn't realize it as we entered the beach, it is part of a state park. There's a separate entrance for cars about an eight minute drive away. Entry by car is not free–there's a fee of $4 for a single occupant or a flat $8 for more than one occupant of a vehicle.
St. Augustine Beach Entrance
We entered the St. Augustine Beach via a footpath that leads right through a small parking lot beside a neighbouring hotel. The pictures below pick up the story right after we've passed through the small parking lot to access the beach.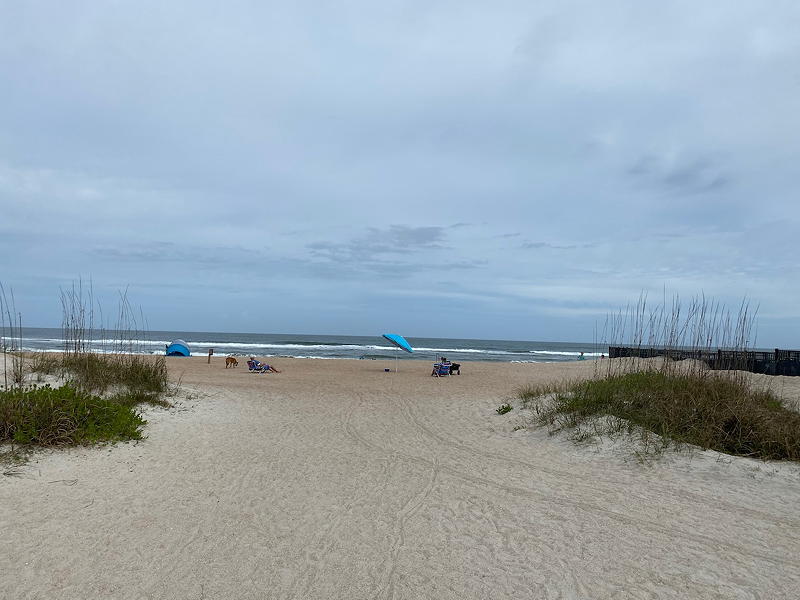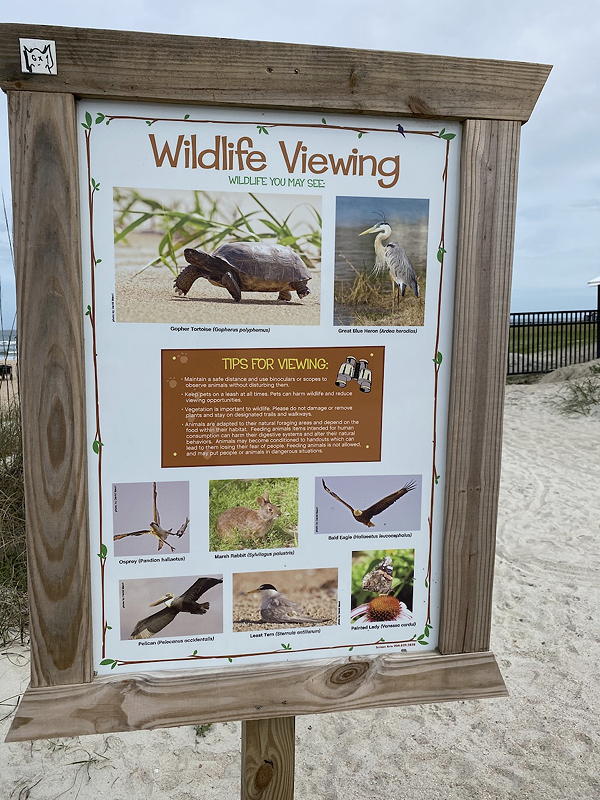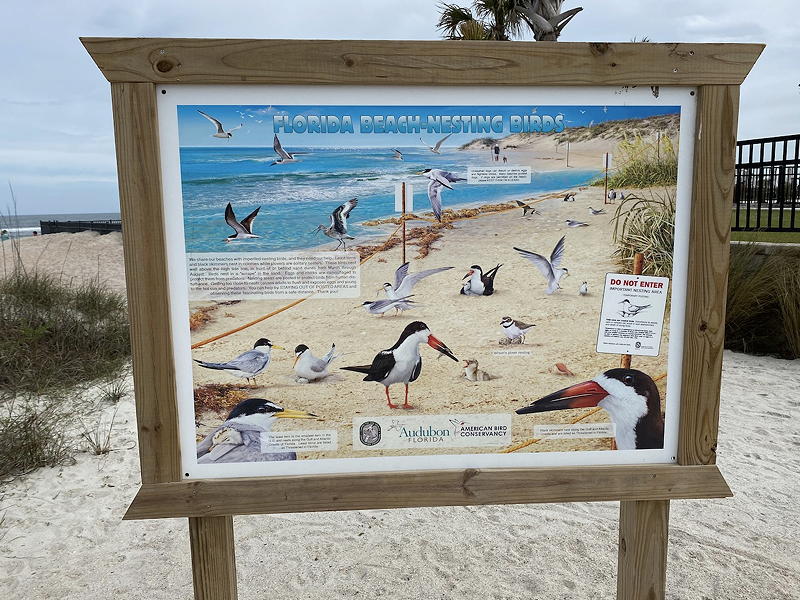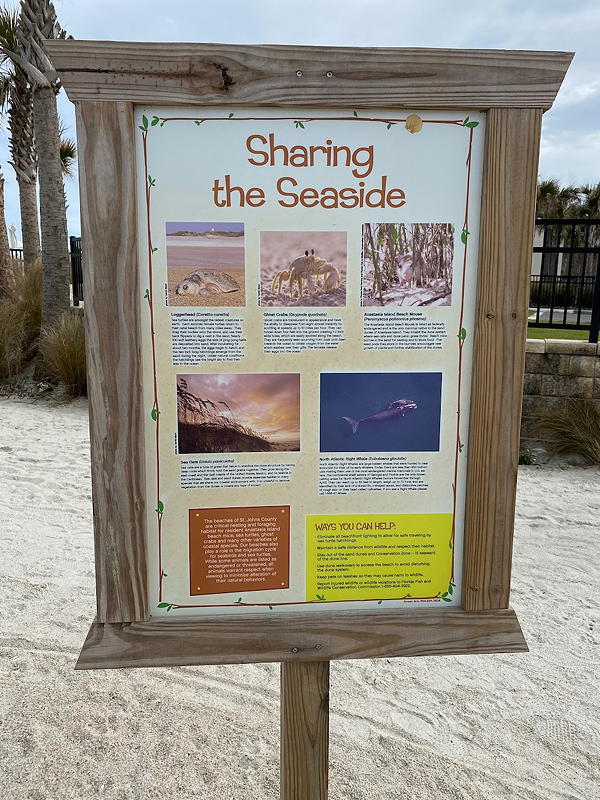 Anastasia State Park
There are several beaches in St. Augustine Beach. Once we saw this sign below, we realized which one we were in: the Anastasia State Park beach. A quick check of our online map showed where we were and where to find the entrance for cars.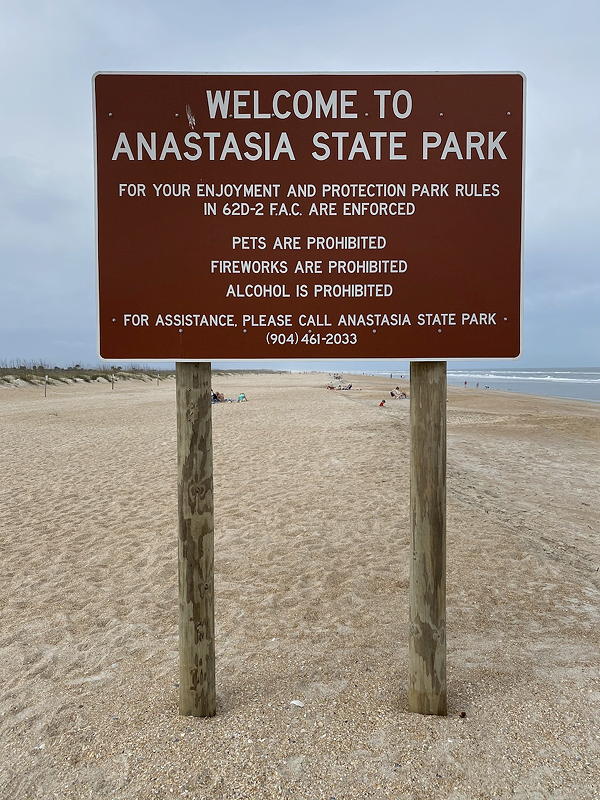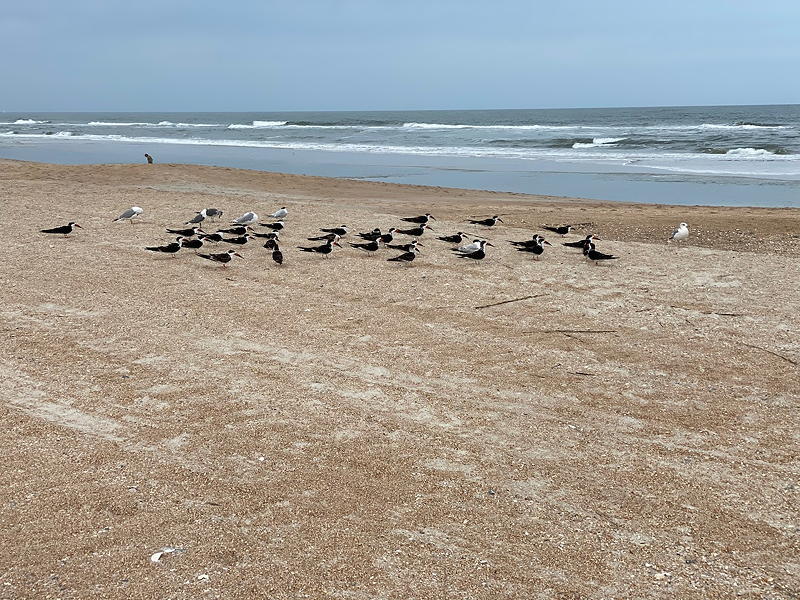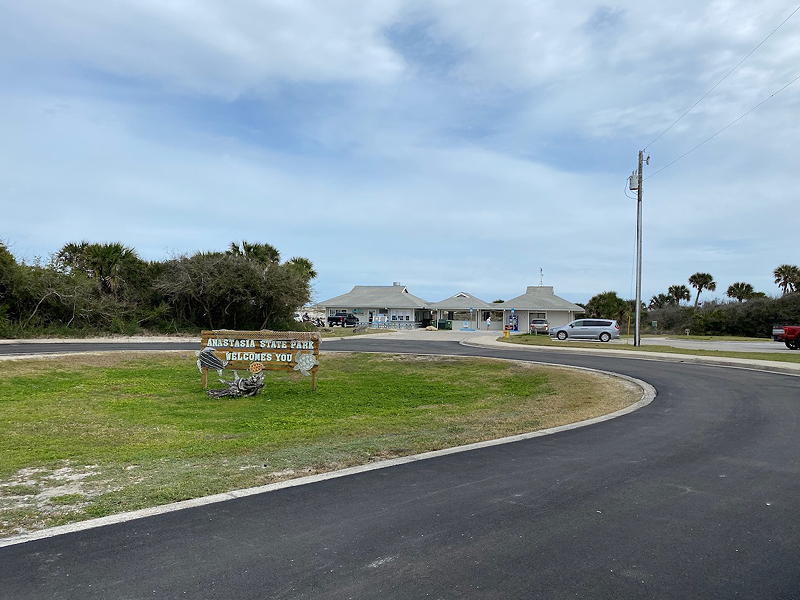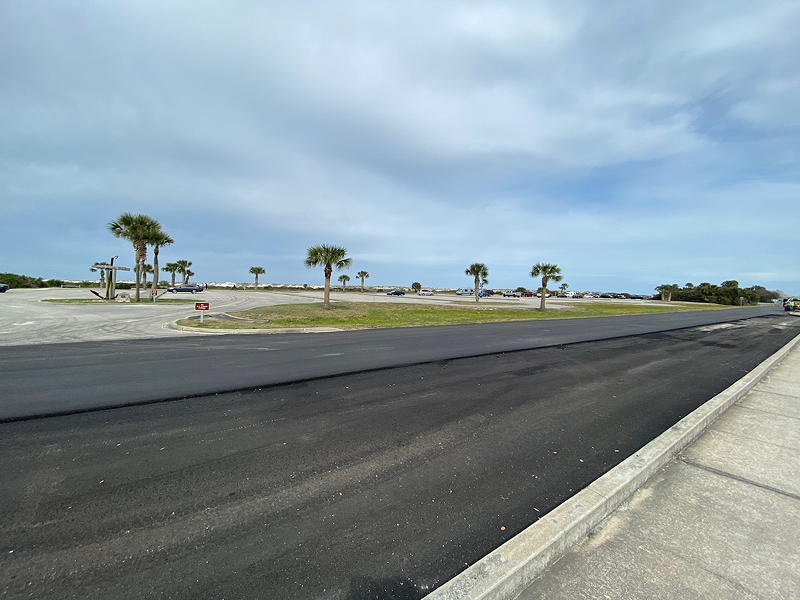 There's a Campground Here!
During our walk, we came across a classic RV dump station. It was complete with non-drinkable water hoses for rinsing out the big hoses used to empty the black tanks and grey tanks. There were signs telling you not to drink from those water hoses. Those water hoses are used to rinse out the dump hoses, which are, shall we say, contaminated with human waste. Since the water hose may come into accidental contact with the dump hoses, it's simply not safe to drink from the water hoses.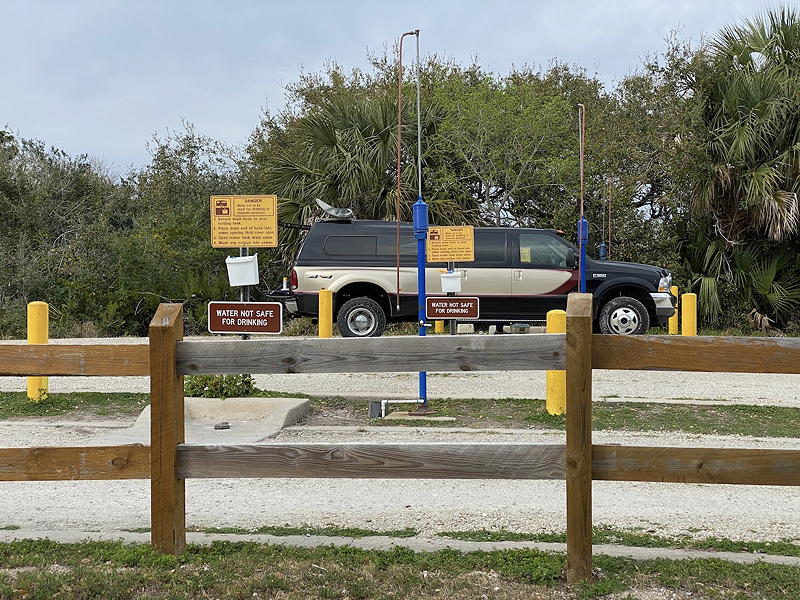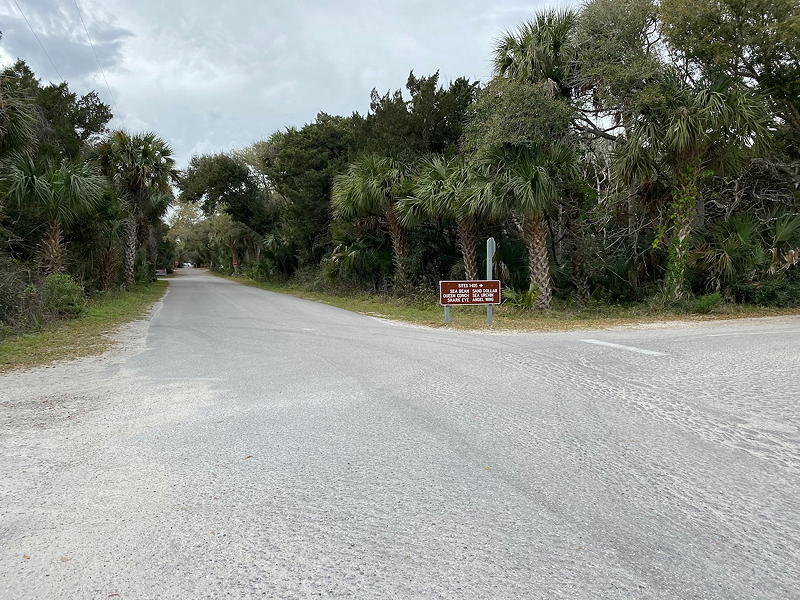 A Road Back to the Scenic Part of Town
As we were checking our online maps, we found this road that would take us to the scenic part of St. Augustine. From there, we could walk back to our campsite. So, off we trudged…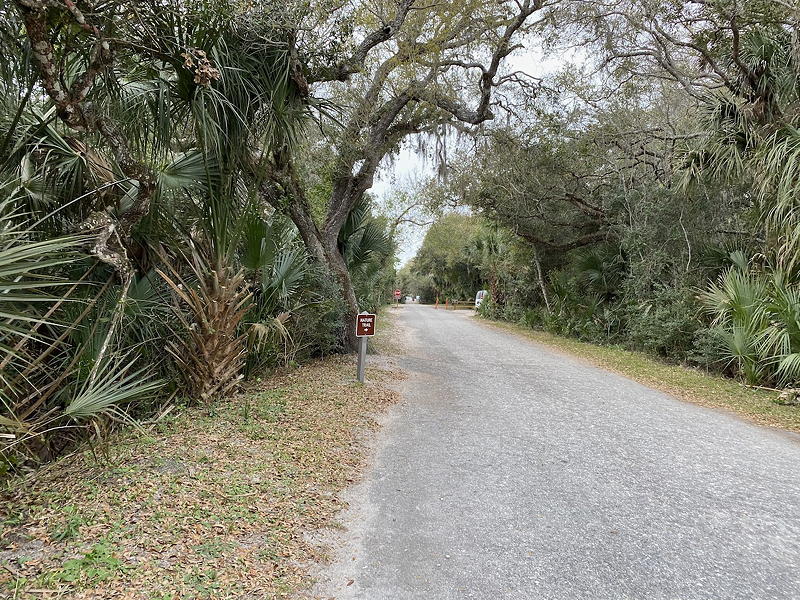 Unfortunately, we were stymied by this fence. The gate for pedestrians is supposed to be operated by a buzzer to unlock it, but it wasn't working for us. A fellow pedestrian from the area had no luck either. He confirmed to us that this was quite unusual, but that was small consolation for us. Unfortunately, Joanne didn't want to climb over the fence. Instead, we had to walk back the way we came to get back to the campground.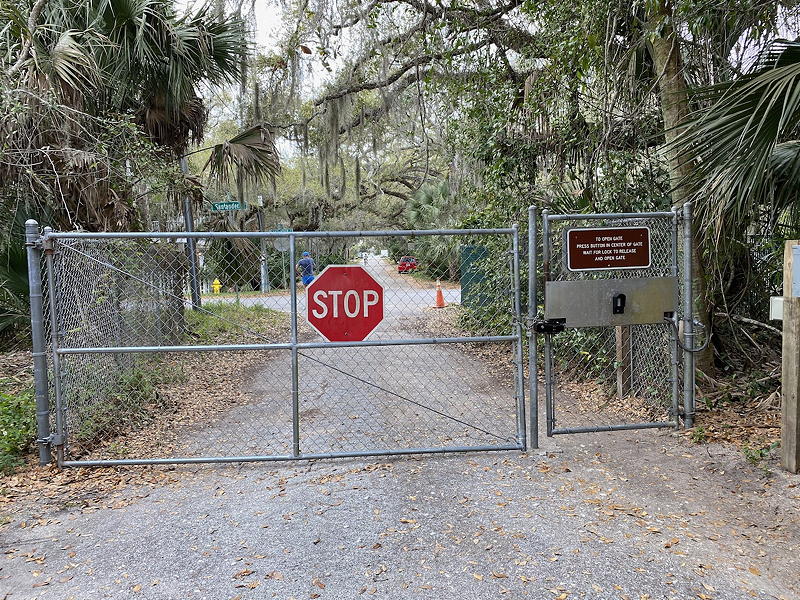 The Walk Back
On our way back, we saw the pier heading out into the ocean. The footpath we took was right in front of the side of the hotel visible in the photo below. On the path, the hotel obscured the view of the pier. When we emerged from the path, we saw the Anastasia State Park sign and headed towards it and thus away from the pier, So, we never saw it. I was quite surprised to see it on the way back!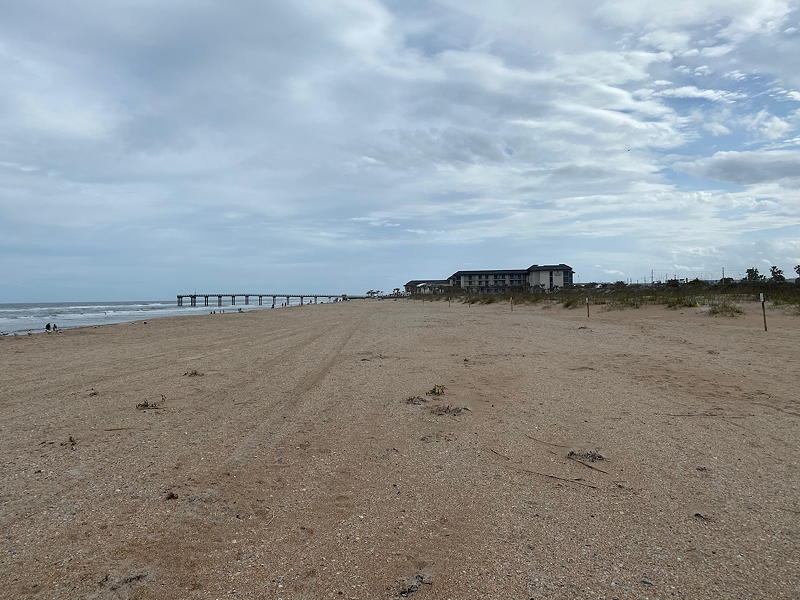 Our walk to the beach and back took us about an hour and a half. In the end, we never did get to see the old part of the city. We had intended to see it but we'd been blocked by the impenetrable gate with the big Stop sign on it. So, we had to walk all the way back the way we'd come instead of walking back through the scenic town. Next time!
We really enjoyed our stay at the St. Augustine Beach KOA campground. In our future trips to Florida, we will probably spend part of our Florida time here.
Our next part of the trip is the short drive to the Fort Pierce Downtown KOA campground where we would start to see changes due to COVID-19. See Part 6 for the details.
This posting was made public on March 23, 2020.