In Part 7, we had finally seen serious signs that COVID-19 was beginning to affect daily life. The restaurant we visited seemed to be much more fastidious than it had been in previous visits. Toilet paper shortages were everywhere, even where supply had been available just a few days earlier. And our nearby grocery store was closing two hours earlier than usual for sanitation and restocking.
COVID-19 Status for March 15th
As of the end of the previous day, March 14th, the COVID-19 case count in the USA had risen to a cumulative total of 2,825, an increase of 31% from the day before. The number of deaths from COVID-19 had jumped to a cumulative total of 56, a 14% rise from the day before.
We had decided that it was too risky to be out and about. COVID-19 was spreading undetected so the zero cases in St. Lucie County at that time were small comfort. We had decided to stop going to restaurants and movie theatres. Then, we bought a couple of weeks of groceries and hunkered down. We began to wonder whether we should head home early.
Beach Day
In the morning, we decided that, today, we'd go to the beach. It might seem ironic given our desire to isolate from others, but the beaches in Fort Pierce at this time of year are not crowded. It was a Saturday, though, and a beautiful day. So, we concluded that if we couldn't be at least the recommended two meters (6.5 feet) way from our beach neighbours, then we would head back home.
A Concerned Call About COVID-19
Before we headed for the beach, I received a concerned call from my good friend, Garth. We had worked together for many years. Also, we'd filmed and photographed two One Lap of America events, which were descendants of the original Cannonball Run, and four Targa Newfoundland events.
Back in Canada, Garth was watching the developing COVID-19 threat in both Canada and the USA. As he became increasingly concerned, he became worried about us. He called and suggested that we might consider coming home early. I replied that we were already self-isolating and watching the news every day to stay up-to-date on the latest developments. We left it at that and we got ready for the beach.
The Trip to the Beach
The parking lot was surprisingly full, so we initially worried about having enough room on the beach. We did find a spot to park a couple of football fields away from where we usually park. It dawned on us that we'd left for Florida three weeks earlier than usual because of the timing of the Gladys Knight concert we saw, described in Part 4. So, we shouldn't have been surprised to find that there were more people at the beach than we saw on previous trips.
There are several pathways from the parking lots to the beach. Because of where we'd parked, we took one that was North of the one we usually take. The entrance was similar, passing through a path lined with trees and shrubs.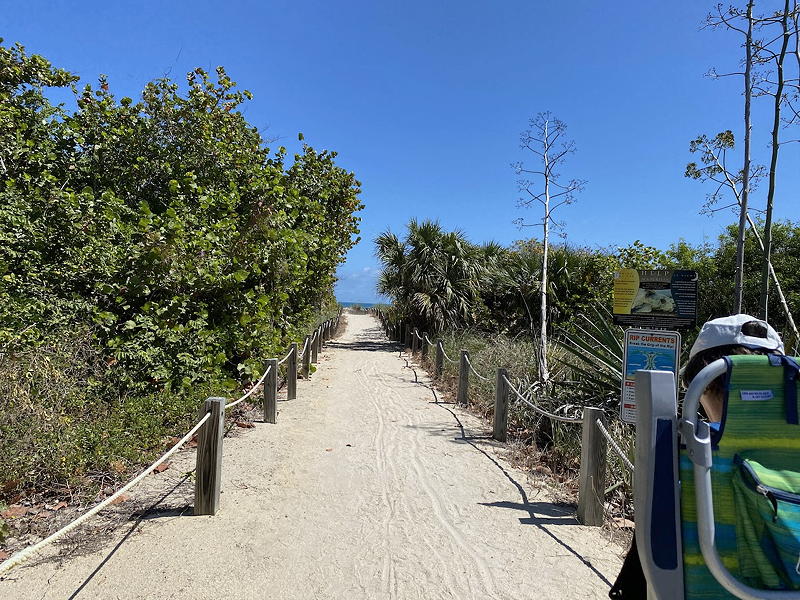 The Beach
Next, we passed by the dunes and dune grass to finally get to the beach. There, I saw the fanciest life guard station I've ever seen. It was air conditioned! I suppose that's quite reasonable given how hot it gets here. I wouldn't be surprised to find out that they're quite common here. But, it was the first one I'd ever seen, and we've been at this beach before, but further South.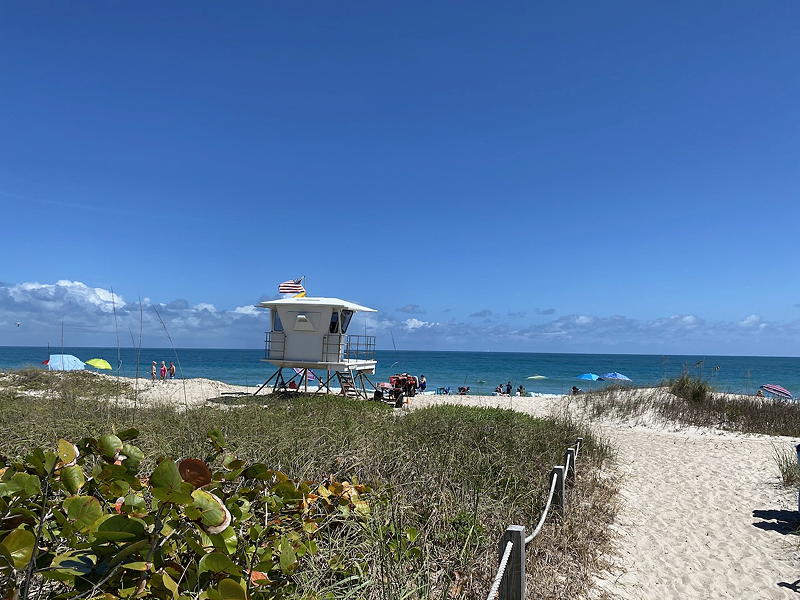 Once we got to the beach itself, we were delighted to see that there was a lot of room on the beach. We were four meters (13 feet) from our nearest neighbour and we noticed that everyone, as is typical at beaches, was spread out from each other. So, we set up our beach chairs and umbrella, and got down to the serious work of enjoying a day at the beach.
The picture at the top of each post in this series is from this day on the beach. Below are a couple of others taken from the same vantage point–our beach chairs.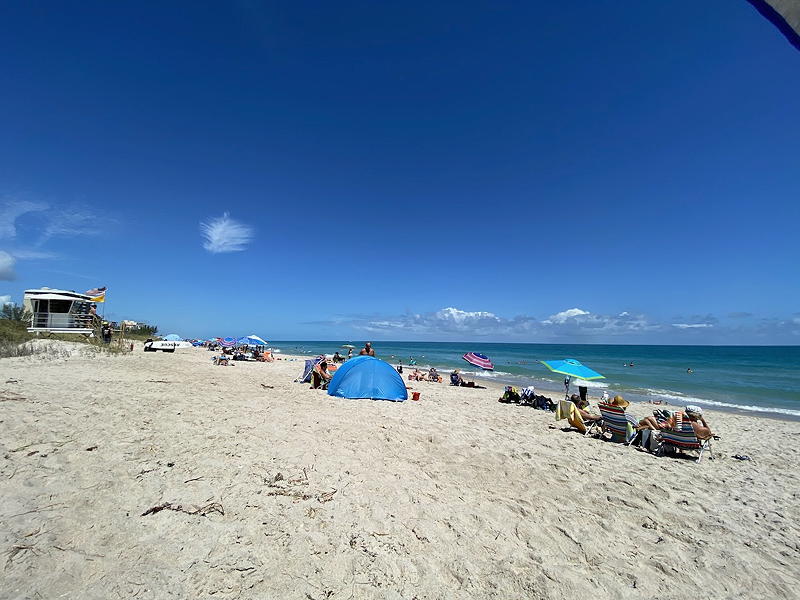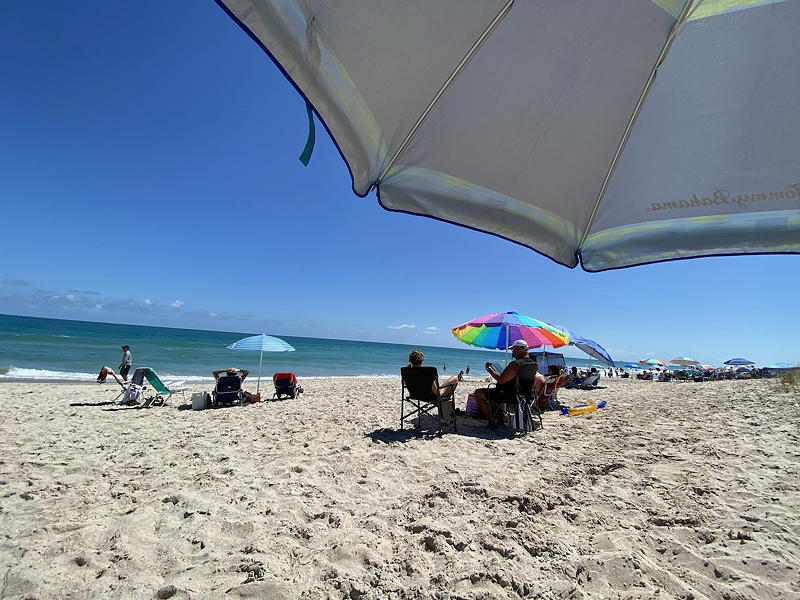 Publix Parking Lot
At 6:45 pm that day, I took a picture of the Publix parking lot next door to the campground. It was pretty full. It seemed clear that COVID-19 was not really deterring people from grocery shopping. I would have expected that most people would bunch up their many shopping trips into a small number of larger purchases like we did. However, judging by the volume of people still coming to the store, that wasn't happening.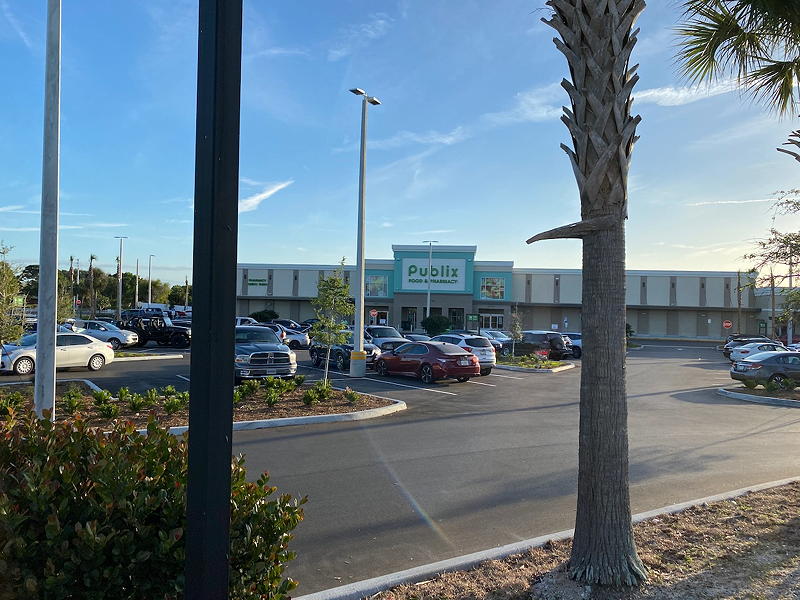 COVID-19 Status for March 16th
As of the end of the previous day, March 15th, the COVID-19 cases and deaths continued their relentless climb. The cumulative case count had now reached 3,501, an increase of 24% over the day before. The death count jumped to a cumulative total of 62, up 11% from the previous day. In a country of 330 million people, I guess these might be seen as small numbers. However, now that it was clear that COVID-19 was spreading in the wild, and given the limited testing that could be done, there really was no way to know the true case count. So, we had started isolating ourselves from other people.
Canada Calls for Canadians to Return Home
That morning, we watched the daily COVID-19 press conference by the Prime Minister of Canada, Justin Trudeau. In it, he called for all Canadians abroad to return home while they still could. The implication was that international flights might soon be curtailed. It was clear from the context that he was referring specifically to people who would need to take a flight home to Canada. In Canada, the USA is not considered to be "abroad" for Canadians. Of course, we could drive home whenever we liked. Nevertheless, we took notice.
Another Concerned Call about COVID-19
Just before 3 pm, I received another call from my friend, Garth. He, too, had seen the new recommendation that Canadians come home. He called to make sure we were aware of it. Again, we weren't too concerned because we could go home anytime we liked. However, he also pointed out that it was possible, if unlikely, that the states might start closing their borders to try to contain the spread of COVID-19. This would be unthinkable in Canada where the federal government is much stronger than the provinces. However, states have more power than provinces. So, the closure of state borders seemed plausible. I thanked Garth for his concern and said I'd talk it over with Joanne.
Discussion with Joanne
After the call from Garth, Joanne and I talked about whether we should return home. We were unsure what to do. On the one hand, we were already self-isolating, so we felt fairly safe. The Florida weather was certainly a heck of a lot nicer than the weather back home, where it was still not getting much above the freezing point during the day. So, self-isolating in Florida seemed a lot more pleasant that self-isolating back home. We were, frankly, on the fence.
Governor of Florida COVID-19 Press Conference
At about 5 pm that day, we started watching the Governor of Florida press conference on COVID-19. It was a very good press conference with a straightforward approach from the governor, Ron DeSantis. He clearly described the threat and explained what must be done.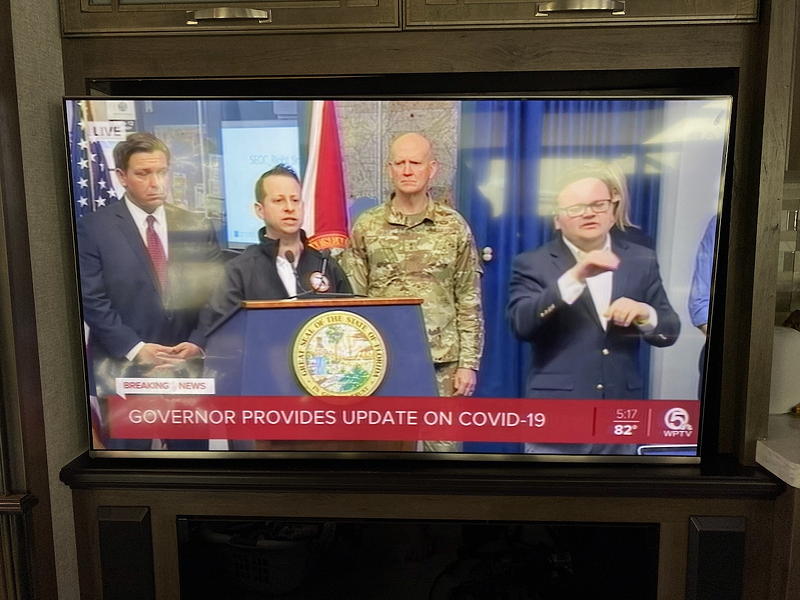 It was now clear that Florida was going to take the threat of COVID-19 very seriously. The closure of state borders looked increasingly plausible. This was the straw that broke the proverbial camel's back. After the press conference was over, we discussed the situation. We decided that it was possible we could get stuck in Florida for quite a while. If that happened, our health insurance coverage would lapse. It was a risk we couldn't take–we decided to go home the next day.
Join us for the journey home in Part 9!
This post was published on March 27, 2020.