In Part 6, we had arrived at the Fort Pierce Downtown KOA in Fort Pierce, Florida and visited the Publix and Family Dollar stores at the strip mall beside the campground. Then, we'd had a quick supper that Joanne had cooked and gone to bed later that evening. We pick up the story starting with the next day, March 12th. For supper, we would head to the Texas Roadhouse restaurant just a twenty-five minute drive away. There, we'd see the first signs of COVID-19 affecting daily life. It would only get worse.
COVID-19 Status
As of the end of the previous day, March 11th, the COVID-19 case count in the USA had risen from 936 on March 10th to a total of 1,205, an increase of 29%. Deaths had gone from a cumulative 31 the previous day to a new total of 37, a 19% increase. Today, March 12th, would be the day when we started to see tangible evidence of the threat of COVID-19 and actions being taken to curtail its spread.
Texas Roadhouse
We were introduced to Texas Roadhouse restaurants by our frequent RV companions, Kelly and Joe, during a trip to the 1000 Islands / Association Island KOA near Watertown, New York. We like it because it has good food, great buns with apple cinnamon butter, and the prices are quite reasonable. Also, most of the restaurants have a special deal. If you arrive Monday to Thursday before 5:30 pm or 6:00 pm–it varies from restaurant to restaurant–you have a choice of eleven meals for $9.99. But for me, the real treat is unlimited free peanuts in shells. Typically, they have two rustic-looking metal buckets on the table. One is full of loose peanuts and the other is for the empty shells. By rustic, I mean that the buckets are, if not rusted, far from pristine. They fit in with the decor and personality of the restaurant.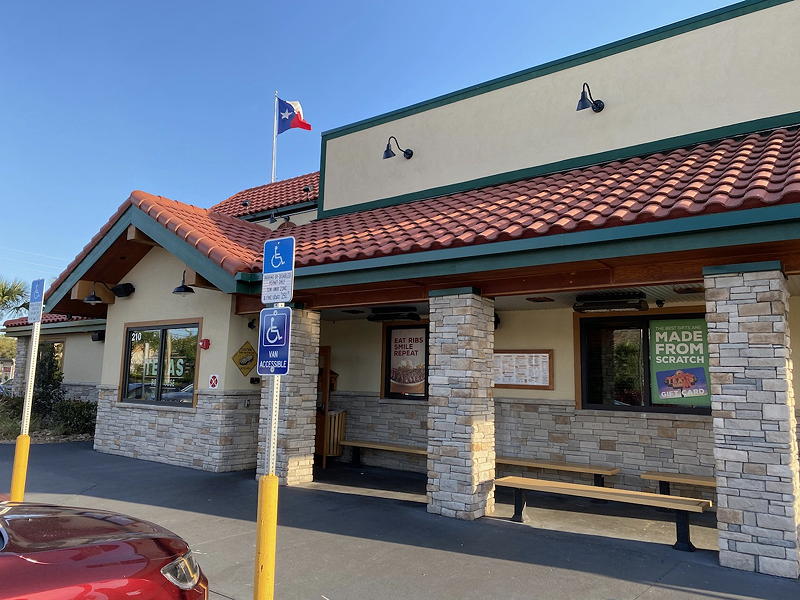 Peanut Buckets and Peanuts
When we arrived at the restaurant, it was quite busy. We didn't have to wait for a table but almost all the tables were full. So, COVID-19 wasn't affecting people's desire to eat at a restaurant. But there was definitely something different when we got to our table. The peanut buckets were gleaming in their shiny, unspoiled appearance. They looked like they had just arrived, brand-new, at the restaurant. Also, they were empty. No loose peanuts and no shell pieces. Instead, a neatly folded-over brown bag of pristine peanuts greeted us, waiting to be opened. We've been to a Texas Roadhouse restaurant many times in the last couple of years and this was something we'd never seen before.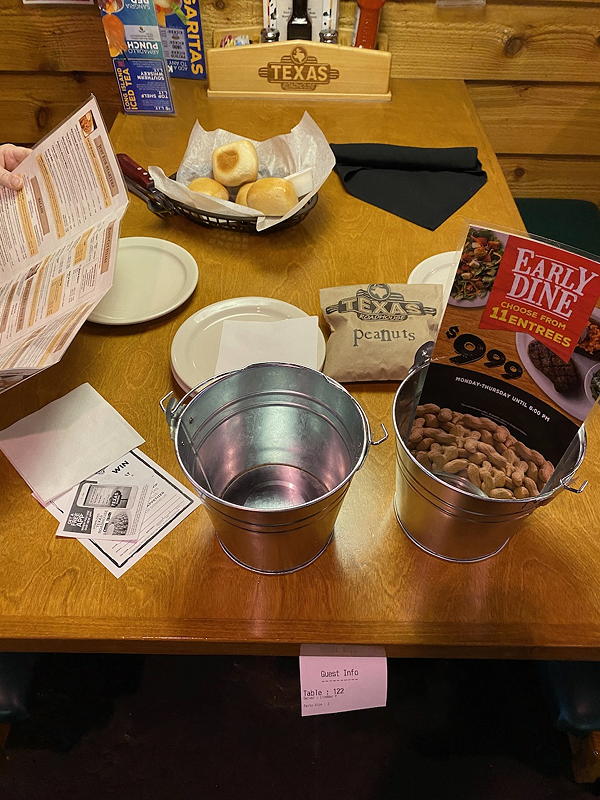 Friday, March 13th
It was Friday the 13th, an auspicious day at the best of times. However, thirteen is a number that has been good to us. We were married on the 13th and we lived in a unit 13 of a townhouse complex. Our first house had a street address of 103. Needless to say, we aren't worried by Fridays of the 13th.
COVID-19 Status on March 13th
At the end of the end of the previous day, March 12th, the COVID-19 case count in the USA had risen to 1,598, a 33% increase from the previous day. The number of deaths from COVID-19 was 41, a rise of 11% over the day before. The increase in cases has been relentless with the percentage increases hovering between a low of 24% and a high of 58% since March 5th. It seemed to be pretty much an exponential increase with no sign of it slowing down.
Practice Resumes
As I mentioned in Part 4, I'm the bass player in the band, Frozen Echo. We have a gig at the Stittsville Legion in Ottawa on May 22nd (well, it hasn't been cancelled so far) and we've picked nine new songs to learn for it. Since I'm not scheduled to be back home until April 6th, it seemed prudent to learn the songs while on vacation. I also have vocal parts to learn. That way, our band practices will be much more productive once we resume. So, I brought along my home four- and five-string Fender bass guitars, my home practice pedalboard, and my small Ampeg BA-108 practice amplifier. With the driving part of the trip out of the way, it's time to resume practising.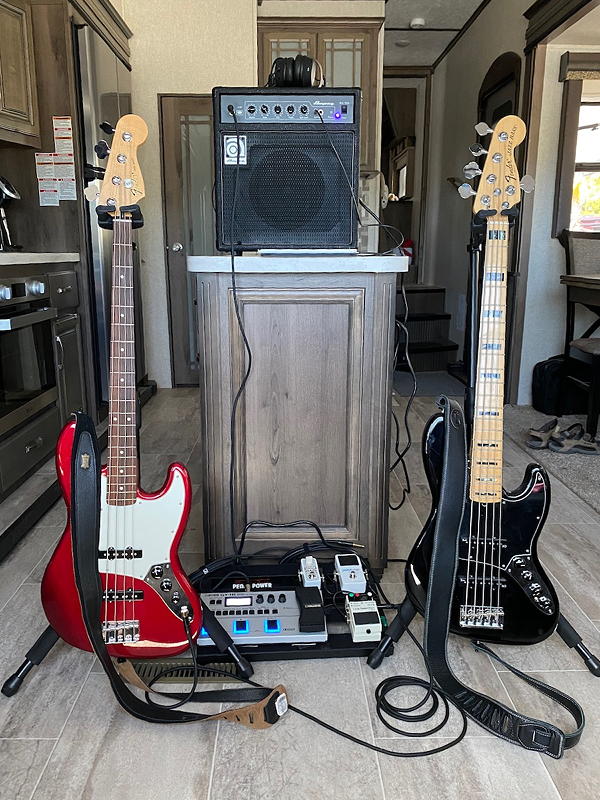 Ironically, despite the presence of the amplifier, I've decided to use headphones for practising. This greatly reduces spousal aggravation. You can see the headphones in the picture above on top of the Ampeg bass amp. Unfortunately, the cord on the headphones wasn't long enough to plug into the pedalboard on the floor and reach up to my head when I'm standing a few feet back from the pedalboard. Although I have several headphone extension cables at home, I had none with me. So, I ran a cable from the output of the pedalboard up to the input on the amplifier, and plugged the headphones into the amplifier. Problem solved! Essentially, the amplifier is functioning as a very expensive headphone extension cable. 🙂
Stores Shelves and Shortages
I went back to the Family Dollar store in the strip mall next to the campground and found that they were out of hand sanitizer, Lysol spray, and Clorox and Lysol wipes. We never did find any such products in any of the stores we visited.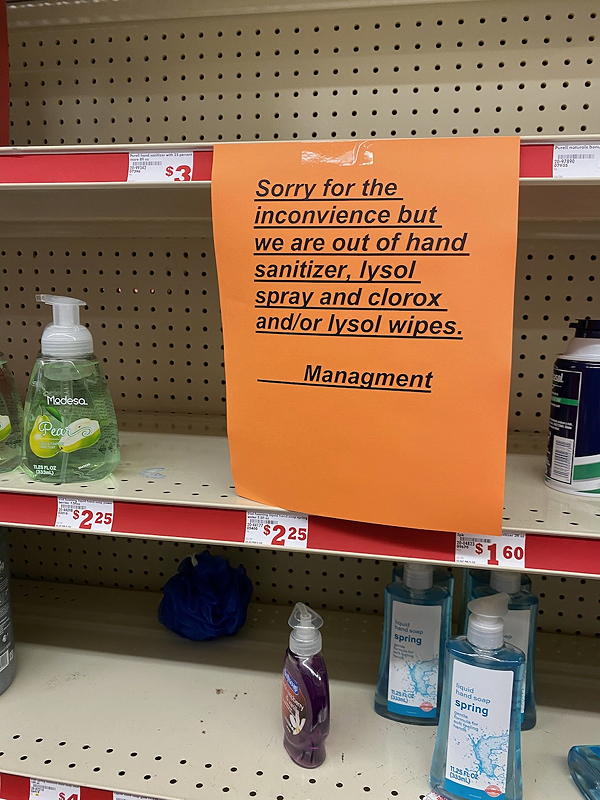 Spotting that, I went to the Publix to see what the shelves were like there. The space in the aisle for toilet paper was completely empty as was the space for paper towels, which I guess is seen as an alternative better than nothing.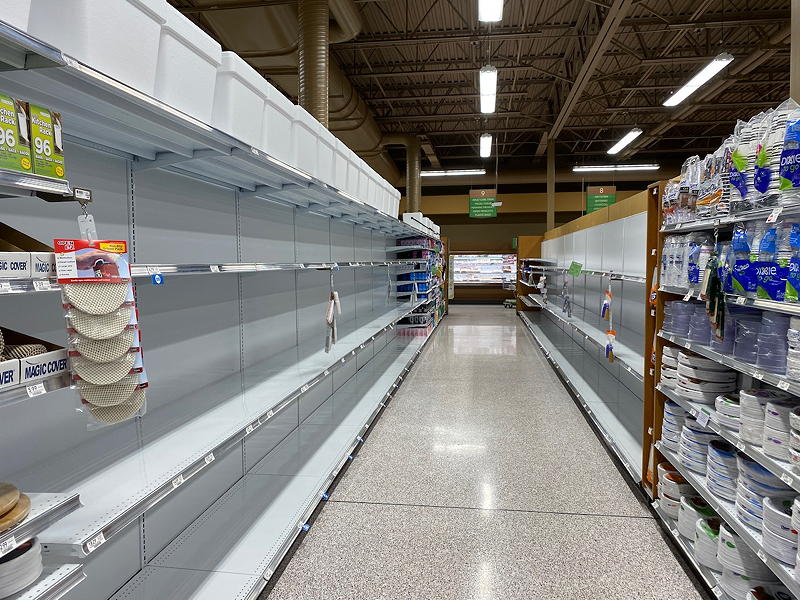 Oddly enough, there was no shortage of feminine hygiene products just passed the empty toilet paper shelves. I would have thought that the one was as important as the other. Go figure.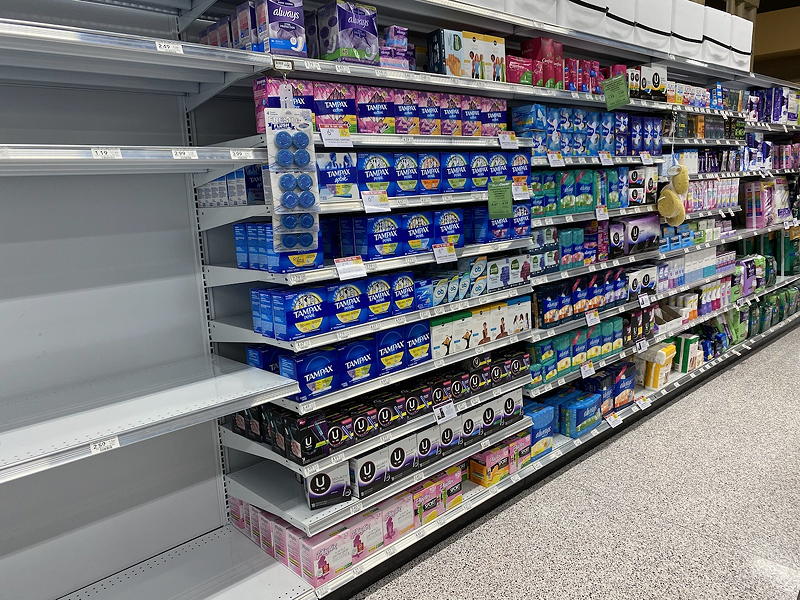 COVID-19 Status as of Saturday, March 14th
At the end of the end of the previous day, March 13th, the COVID-19 case count in the USA had risen to 2,163, a 35% increase from the previous day. The number of deaths from COVID-19 was 49, a rise of 20% over the day before. The growth is quite alarming and most US politicians are talking more gravely about the developing crisis. Consequently, there are more significant signs that things are really changing.
Although there were no known cases in St. Lucie County, where Fort Pierce is located, it was equally clear that COVID-19 was spreading undetected in many places. Cases were popping up that could not be traced to existing known cases. That meant that people not known to carry the disease were spreading it to others who developed symptoms. Those symptoms would get serious enough to warrant a test that would then yield a positive result.
Because COVID-19 was clearly no longer contained, it could be anywhere. So, the zero case count in St. Lucie County was of small comfort to us. Being of retirement age, we were in a higher risk group, so we decided that it was time to isolate ourselves from others. That meant no more restaurants, and no movie theatres. Our twice-daily walks rarely saw other people, so we decided that we could continue with them. Nevertheless, things were definitely getting serious.
Grocery Shopping
On the morning of Saturday, March 14th, we decided that we'd better go get the proverbial two week supply of groceries. Normally, with the Publix just a five minute walk away, we would get groceries most days. We'd think about what we'd want to eat that day, and maybe the next, and then we'd go get whatever groceries we'd need. Now, we wanted to avoid stores as much as possible, hence the two week supply.
Walmart
Our first stop for groceries was a Walmart on OkeeChobee Road right near I-95. We wanted to pick up some rice but those shelves were empty. Another item was RV toilet paper. You can't use regular toilet paper in an RV toilet because it clogs the pipe that empties the black tank that holds the flushed toilet contents. Instead, you need special toilet paper that will disintegrate soon after it gets wet. At Walmart, it's found in the Automotive section. It's nowhere near where you find regular toilet paper. Nevertheless, they were out of stock. Fortunately, we had 13 rolls of toilet paper in the trailer, more than enough to last our trip until we were back home on April 6th.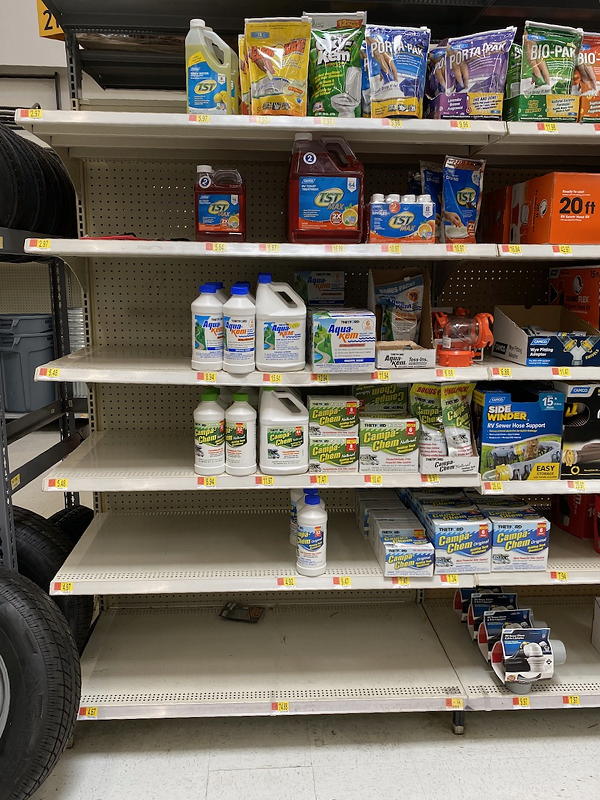 Publix & Family Dollar
Stymied in our quest for rice, we went to the Publix near the campground once we got back there. They had plenty of rice, so we bought enough for a few weeks along with a few other items.
I also went to the Family Dollar to see if they still had a plentiful supply of toilet paper. Alas, they did not. The COVID-19 run on toilet paper appeared to be complete!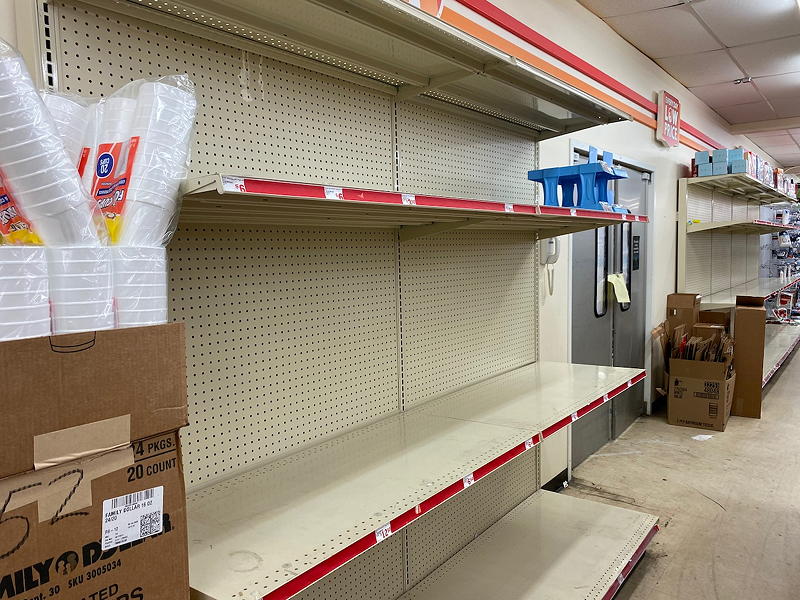 Publix and COVID-19
Later that evening, I returned to the Publix in my nightly quest to close my exercise ring on my Apple Watch. It was just past 10:30 pm and the store had been closed for a while. The parking lot was empty. Whenever the store was open, the parking lot was full or close to full. Even on the day we left, the parking lot was nearly full. COVID-19 fears didn't seem to affect grocery shopping.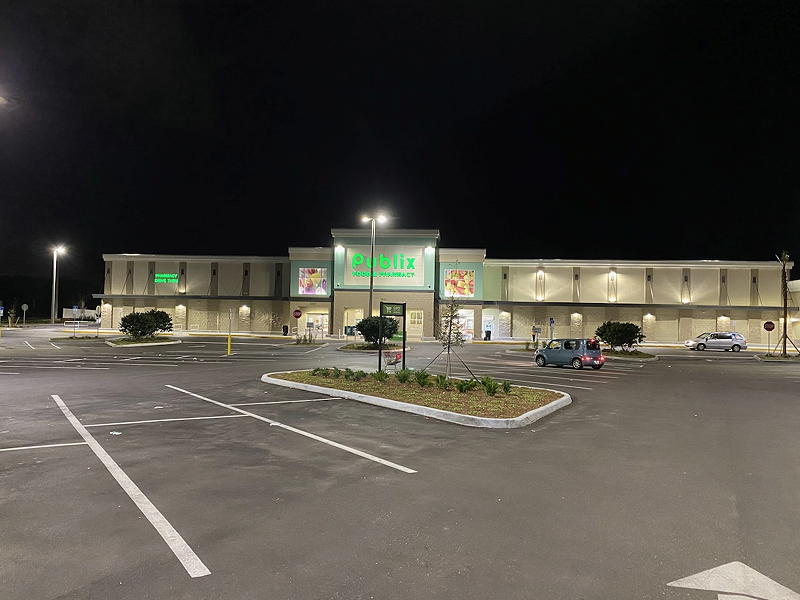 I also noticed a brand new sign on the entrance and exit doors of the grocery store. They were going to be closing nightly at 8 pm instead of the previous 10 pm for sanitation and restocking purposes.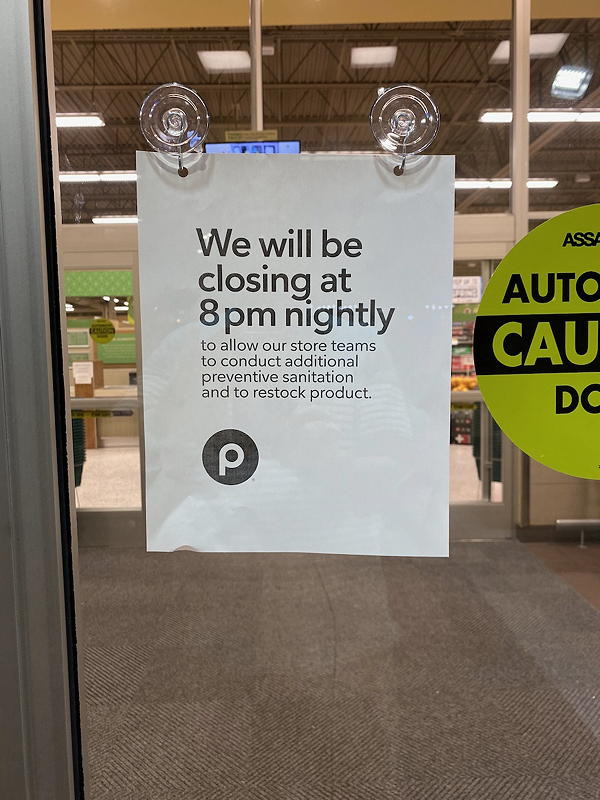 In just a few days, we saw significant changes due to COVID-19. Toilet paper shortages were everywhere we went, even the Family Dollar store that previously had plenty of stock. The restaurant we went to, the Texas Roadhouse, was no longer serving loose peanuts, instead serving individual bags of peanuts. Also, the peanut buckets appeared to be brand new and clean as a whistle. And, here was Publix closing two hours early for sanitation and restocking purposes. Joanne and I began wondering whether we should head home. See Part 8 for how things turned out.
This post was made public on March 26, 2020.