For reasons explained in this post, we decided to buy an RV. Having decided to get one, here's how we ended up choosing the RV of our dreams. Part 1 is below and you can look at Part 2 and Part 3.
We Started Small
We were brand new to the world of RVs having never even used a tent trailer. So, we initially considered a small trailer.
ProLite Plus
In fact, we'd seen a small trailer that was for sale at Primo Trailer Sales. It was a little trailer shaped like a sideways tear drop. It was a ProLite trailer made in Québec by Roulotte Prolite (roulotte being the French word for "trailer"). We think it was the Plus model. It was pretty small, but we could pull it with our Subaru Outback, which could tow 3,000 pounds. That meant that we wouldn't have to buy a different vehicle to two it. That really helps to keep costs down.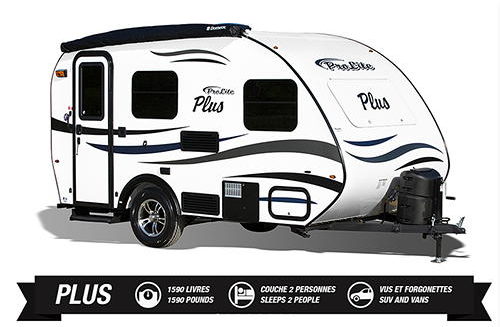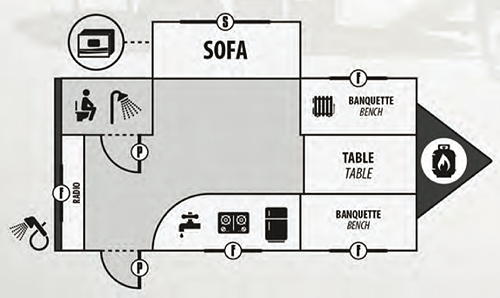 However, we found this one to be a bit small and we couldn't really imagine being comfortable in it for much more than a weekend. Also, it had a cassette toilet, which is a pain to deal with because it fills up quickly.
ProLite Evasion
So, we looked for a larger ProLite trailer. They have a wide selection, from really tiny to what we thought, at the time, was a large trailer. After looking at all the specifications, we felt this one would suit us best: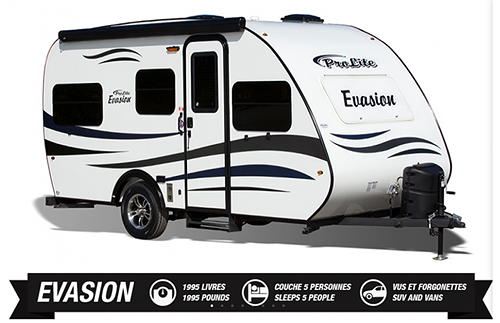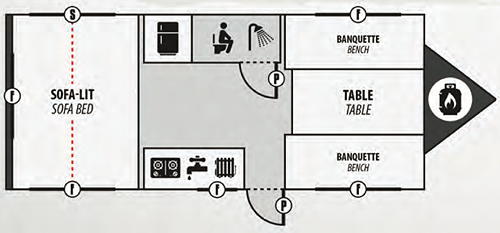 This model, the Evasion, had a proper black tank for the toilet and had a separate bed. We'd heard that beds on top of tables, which was the arrangement in the "Plus" model, were typically uncomfortable compared to a proper, separate bed. So, the separate bed was an attraction. Plus, it was one less reconfiguration to do when we wanted to go to bed. Furthermore, it meant that one of us could sit at the table and read while the other remained in bed. Since we don't always get up and go to bed at the same time, that was a real plus for us.
Maybe a Bit Larger
At this point, already deep into choosing the RV of our dreams, we thought a bit more about how we were going to use the trailer. Kelly and Joe typically went on trips of three days to make a long weekend. They also went on longer trips such as visiting Joe's family in Winnipeg, typically lasting two or three weeks. We could see ourselves in the ProLite Evasion trailer for a weekend, but even a week would be a stretch. So, we decided to look at larger trailers.
We really liked the salesperson we had dealt with at Primo Trailer Sales, so we went back there to look at larger trailers. After discussing our latest thinking, such as just the two of us traveling for a couple of weeks, he showed us several trailers that would meet our needs. After looking at them, we narrowed the selection down to three trailers.
One consequence of looking at larger trailers was that we were going to need a different tow vehicle. Our 2015 Subaru Outback was rated for a maximum tow weight of 3,000 pounds and all the larger trailers we were about to look at exceeded that considerably. So, we resigned ourselves to replacing our Subaru with something that could tow a heavier trailer.
The Apex Nano 191RBS
The first of the larger trailers that we looked at was the Apex Nano 191RBS, made by Coachmen RV.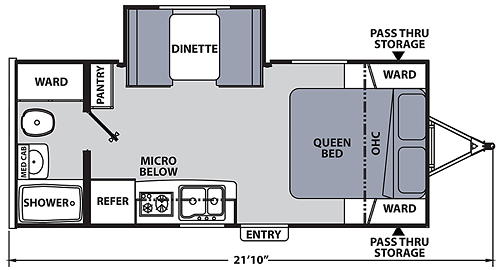 We liked this one because it had a maximum weight of 4,700 pounds. Most of the larger SUVs sold on the market can tow 5,000 pounds so we'd have a wide selection of vehicles to choose from. It was also much larger than the ProLite trailers we had been looking at. The shower was still small but it was no longer a wet bath–a combined shower and toilet where everything gets wet when you take a shower. Instead, this trailer had a shower separate from the toilet. The dinette was in a slide-out–a part of the trailer that extends out when parked and level to create more room inside. It also had a lot more space and could carry a lot more stuff.
Trailer Weights and Tow Vehicles
It was already clear that choosing the RV of our dreams was likely to include choosing the tow vehicle of our dreams. We were learning more about tow vehicles and trailer capacities and it's worth a bit of discussion before we go much further. To start with, the maximum weight I mentioned above was, more precisely, its Gross Vehicle Weight Rating, or GVWR. That is the most that the trailer can weigh including the weight of itself empty, plus supplies such as fresh water and propane, and the weight of all the cargo you put in it.
In this case, the trailer specified an Unloaded Vehicle Weight, or UVW, of 3.446 pounds. For a motorhome, that includes oil in the engine and all other customary fluids like power steering fluid and windshield washer fluid. For a trailer, it's essentially its empty weight. If you subtract this UVW from the GVWR, you get 1,254 pounds, which is the weight of stuff you can add.
Don't forget, though, that you have to add propane to your propane cylinders, and fresh water to your tanks. You'll also end up filling the grey tank, which holds water from your kitchen and shower, as well as your black tank, which holds water and, shall we say, other stuff from your toilet. You may also have extra options on the trailer and you need to consider the weight of those options. The weight of all this must be subtracted from the 1,254 pounds to get what "normal" cargo you can put in such as dishes, clothing, books, computers, tools and whatever you want to bring along with you. There are simply formulas you can use for the weight of tank contents based on the size of the tanks and for the propane.
In this case, the trailer fresh water tank was 50 gallons, and the gray and black tanks were each 30 gallons, all gallons being US gallons, which are about 3.785 liters. You could use the formulas to find your remaining carrying capacity. We didn't do so because we moved on to the next trailer.
The Apex Ultra-Lite 232RBS
The next trailer we considered in choosing the RV of our dreams was the Apex Ultra-Lite 232RBS, which doesn't seem to be available anymore so I can't provide a link to the manufacturer's product page.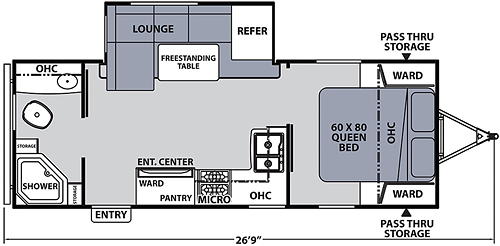 This trailer was almost six feet longer and gave us a much larger kitchen and a lot more space in the bathroom, along with a big television as part of the entertainment center. The dinette was also quite a bit larger. Another great feature was the door for the bedroom. Remember that Joanne and I sometimes go to bed or wake up at different times. The door meant that we were less likely to disturb each other. One drawback, though was a GVWR of 7,000 pounds, which meant that we'd be looking a only quite large SUVs to tow this trailer.
At this point, I was getting comfortable with replacing the Subaru Outback despite the added cost. We realized we were on a slippery slope and that, once our decisions had been more-or-less made, we'd have to have a hard look at the financial implications of our choices. For now, though, after doing quite a bit of research, I had dreams of an Audi Q7 that could tow up to 7,700 pounds. However, this was going to cost roughly twice what I'd paid for the new Subaru Outback.
Another key number to keep in mind when looking at tow vehicles is what's called hitch weight or tongue weight. When you attach the trailer to the tow vehicle's tow hitch, it puts a certain amount of weight on that tow hitch. That's the hitch weight or tongue weight. Every tow vehicle has a maximum tongue weight. For the Audi Q7, it was 770 pounds–it's typically ten percent of the maximum towing capacity. The 232RBS had a hitch weight of 501 pounds, so the Audi Q7 was still looking good.
The Apex Ultra-Lite 265RBSS
The third trailer we looked at was the Apex Ultra-Lite 265RBSS. This had a GVWR of 7,600 pounds–one hundred pounds less that the Audi Q7's 7,700 pound limit–and a hitch weight of 734 pounds, less that the 770 pound limit. So, still looking good for the Audi Q7.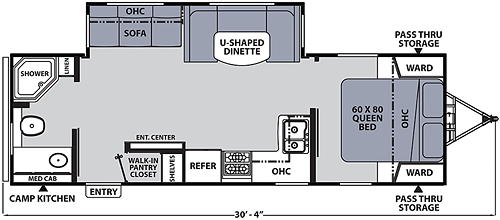 This one was looking really great for us. It was three feet and seven inches longer than the 232RBS which gave us a separate sofa for watching television as well as a refrigerator in a more conventional location. The walk-in pantry was attractive too. We thought we'd found the right trailer for us, finally.
At this point, we were almost halfway through choosing the RV of our dreams. However, we'd seen some funny looking trailers–fifth wheel trailers–that attached to the tow vehicle in a way quite differently from the trailers we'd been looking at. Part 2 of this article looks at these fifth wheel trailers.
Note: This posting was made public on March 16, 2020.